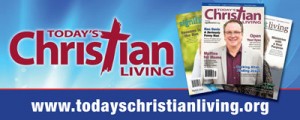 Join more than 900 other churches that use Today's Christian Living to assist in their ministries. How can Today's Christian Living help your ministry?
Motivate Your Congregation
Today's Christian Living touches the heart with moving stories about what He is doing through both everyday believers and well-known Christians. Each issue features remarkable accounts about people coming to salvation, growing in their faith, and making sacrifices to serve Him.
Leave a Lasting Impression Through Your Visits
Give Today's Christian Living as an icebreaker and a tangible way to show you care. Share it with:
• New visitors
• Church members during home visits
• Seniors at nursing homes and assisted living centers
• Hospital patients
Help Your Members Grow Spiritually
Prompt lively discussion using Today's Christian Living as a part of:
• Discipleship groups
• Small groups
• Bible studies
Introduce the Lost to Jesus
Because Today's Christian Living speaks to the heart through stories, it opens ears that otherwise would be closed or indifferent. Build a bridge to the lost or spiritually immature:
• Pregnancy centers
• Prison ministries
• Lost friends and family members
50% Discount
Order in bulk at 50% off the cover price — only $2.50 each for U.S. and $3.50 for Canada — in quantities of three with a minimum order of six copies.
How to Lower the Cost Even More
• Request a donation.
• Ask one or more of your members to fund Today's Christian Living as a ministry to your congregation.
To participate in this bulk program just call 800-331-0038 ext 122 to order your bulk copies.
Increase, decrease or cancel your order at any time. You are never locked in to a long term contract. If you don't agree that Today's Christian Living is valuable to your members, just write "cancel" on the bill and owe nothing. No risk, no obligation.