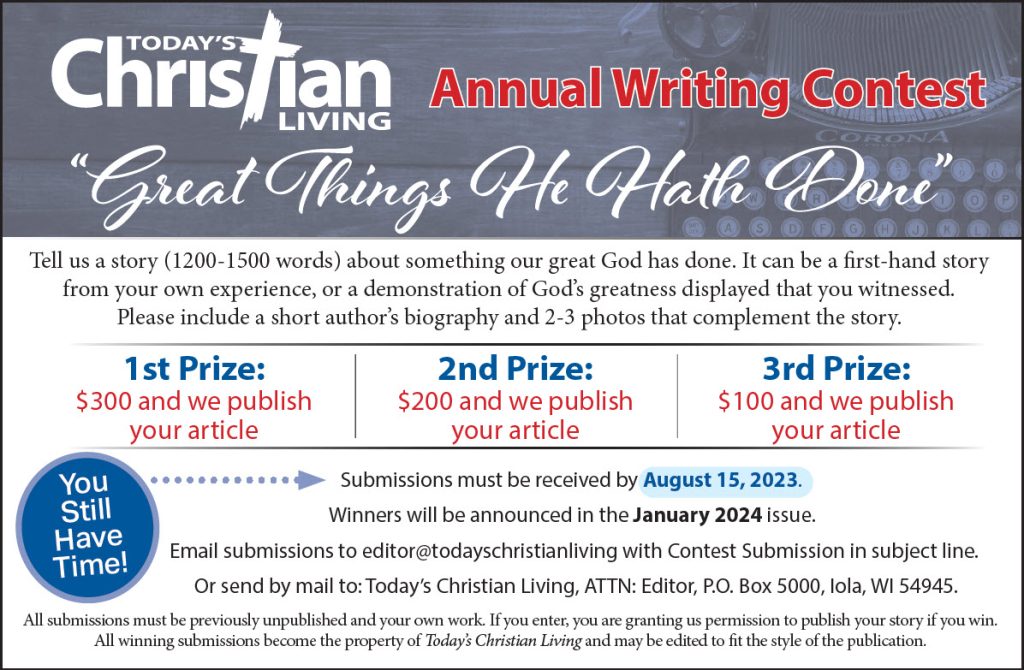 2023 Writing Contest Deadline:
Entries must be received by August 15, 2023
Tell us a story (1,200-1,500 words) about something our great God has done. It can be a first-hand story
from your own experience, or a demonstration of God's greatness displayed that you witnessed.
Please include a short author's biography and 2-3 photos that complement the story.
Prizes:
1st Prize: $300 and article published in the January 2024 issue.
2nd Prize: $200 and article published in the January 2024 issue.
3rd Prize: $100 and article published in the January 2024 issue.
Tips for Submitting a Winning Entry
To write a compelling, award-winning article for the annual writing contest, study stories from past issues of Today's Christian Living. Today's Christian Living is an inspirational magazine, so we focus on articles showing how Jesus has transformed a person's life. These stories illustrate how their lives glorify God rather than emphasizing information, preaching, or teaching. (We generally reserve our teaching and informational articles for our staff columnists.)
Before writing a story about someone else, make sure you have their permission. Then allow them to read the story and approve it before you submit the story. Even if you feel you are being complimentary, they may not want their story in print.
Rather than trying to cover too many details about a person's life, focus on just one or two main events and develop those in more depth. Readers are more able to relate to a story when focused on a specific situation rather than giving a laundry list of general facts about a person or a ministry. Help the reader visualize the story through vivid details. You can also include dialogue to help engage readers in the story.
With your contest submission, include three to five quality, high-resolution color photos to illustrate the article, a quality, high-resolution color photo (headshot) of the author, and a brief author bio of 35 to 50 words.
Photos must be copyright-free, color digital images that are high-resolution (at least 5" x 7" at 300 dpi). If you send a 72 dpi image that's 3″ x 3″ on screen, it will be less than one inch when it is converted to 300 dpi for print. So, it's important that the image is large enough to convert. Photos do not need to be taken by a professional, as most digital cameras are capable of taking high quality photos, but make sure the camera is set to the highest resolution setting. High resolution print quality photos are generally 2 to 3 MB or larger. However, to ensure photos are able to be emailed, keep each photo less than 8 MB. The standard digital camera format JPEG is the best format to submit. Keep in mind that good composition, lighting, and focus are essential to good photography.
Rights and Requirements: Do not submit articles that you have written for other publications. All articles and photos must be exclusive to Today's Christian Living, and the content must be original. All completed articles are subject to editing for space, style, and content. Additional rights and requirements are outlined in an Author's Contract, provided to writers upon article acceptance. Contracts must be signed and returned.
Stories and photos may be sent via email to: editor@todayschristianliving.org Include Contest Entry in the subject line.
Or send by mail to: Today's Christian Living, ATTN: Editor, PO Box 5000, Iola, WI 54945.