By Holley Gerth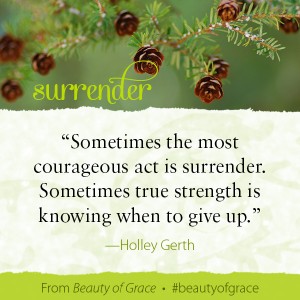 There will be moments when you've had enough and it's all too much. When you feel that way . . . give up.
Yes, ma'am. You heard me right. Stand and raise your hands as high as you can. Then turn your open palms toward heaven and tell God you're done. You're handing it all over to Him. Giving up. Then ask Him what He wants to give you in return. Take hold of what He offers with both hands and bring it back to your heart.
Strong girl, I know it's hard for you to think that way. You feel like you need to prove you can handle all this. You worry that you'll let someone down. You're afraid of feeling weak or out of control. But sometimes the bravest thing you can do isn't to just keep going. Sometimes the most courageous act is surrender. Sometimes true strength is knowing when to give up.
So find a quiet spot as soon as you finish reading this, ok? Somewhere you can raise your arms up high and let the tears stream down if you need to. Say what you need to say to God, then open your hands and your heart.
It's time, friend.
From The Beauty of Grace: Stories of God's Love from Today's Most Popular Writers. Article by Holly Gerth, edited by Dawn Camp, Revell, a division of Baker Publishing Group, © 2015. Used by permission.