By Carl Dulinsky
If you think of yourself as worthless, that will be a self-fulfilling prophecy. If you think you're not a masterpiece, you'll live like you're not. We often feel this way because we have to look in the mirror. We see the flaws and shortcomings instead of the growth and success. The Master is okay with the process; we are the ones who expect greatness to come in a moment. We have to be willing to submit our perspective to his and let his definition of us be the definition we live by.
On multiple occasions the Word talks about learning from the example of others. The Bible makes it clear that we are to pay attention and allow these examples to affect our lifestyles. At times in our walk with God we need an example to spur us on. I want to share with you a story of a man who had every right to give up. He felt exactly like some of you may be feeling.
He was me.
I was born in 1977 to a broken and completely dysfunctional family. My mother was an alcoholic and a heroin addict. My father, though not addicted to drugs, was not around due to the constant friction and full-on fights.
Childhood became a blur of confusion and broken dreams. I found solace in sports and activities that kept me away from the house as much as possible. The only problem was that as soon as I got comfortable, I was uprooted because my mother's current relationship would inevitably fall apart because of all the drugs and alcohol. Along my older sister and I went, from home to home, city to city, state to state—living with our mother at times and other relatives when we were too inconvenient for her to take care of. At times we sat in the car outside of bars for hours just waiting for our mother to finish doing God-knows-what so we could leave.
Everything seemed about to change for the better when I was eight. Out of the blue, I was taken from Mom and placed in foster care awaiting confirmation that my father had gotten custody. After what seemed like weeks, my father got custody and I was enveloped in a whole new world of money and seeming stability.
Whereas I had lived in poverty all my life until that point, Dad seemed to have endless supplies of money. Love was shown by gifts of every shape and color. All seemed great for a time. Then things started to turn as I realized that the money, which seemed endless, came from sources that would bring everything to a crashing halt.
I went from comfort to fear, dread, and concern. My father had been part of a major drug organization. It started with death threats. Then, sitting in the dark one night, I watched my father with guns loaded and ready to protect his family from the ones who were on their way. Nothing came that night but a lot of sleeplessness and fear.
Stability was gone.
One day, at the age of twelve, I came home from school to see the entire neighborhood looking on with amazement. The Drug Enforcement Agency had just left after raiding the house at gunpoint, disrupting every item, searching every corner for evidence of my father's crimes. I remember the utter shame and embarrassment as some tried to comfort this poor little boy. When I finally got in the house, I found my own things destroyed. That straw broke the camel's back. Weeping uncontrollably, I tried to make sense of it all.
For the next year I watched my father go in and out of court until finally one day I had to kiss Dad goodbye for the final time. For the crimes he had taken part in, my father received a twenty-two-year prison sentence.
The following years were a blur—once again I was shuttled from one home to another. Only this time I had actually been stable long enough to feel the tearing away from friends and school. Suddenly, just as in childhood, I was off to another town with another relative willing to help.
This time it was Grandma. Like my mother, Grandma was an alcoholic. She was a functioning alcoholic though. She would work all day and drink all night. During the next three years I found some stability. But still at times I would be ripped from one home into another. Either because my mother moved close by and promised to be "doing better," or because my grandma just got too drunk and I was too much to handle and had to move out.
The difference this time was that I had made a friend who went to church. I would go with my friend thinking if nothing else there would be cute girls there. One thing led to another, and I started to accept what was being said at church.
During one of Grandma's drunken states, she kicked me out, and I ended up living with this friend. Though he also came from a single-mother home, there seemed to be peace and stability most of the time. There was love, not the kind that is bought or just talked about, but real genuine care.
Unfortunately, the past caught up with me. I hated drugs and alcohol for what they had done to my family, to the point that I was on a mission to prove myself and make it even though no one else in my family had.
Then I started to smoke marijuana and drink, mostly to fit in at first. I had been living a lie from the day I moved in with my grandma. That I was a tough guy, once a part of a gang. When tested, I felt I had to prove myself. As time went on this meant doing the very things I despised.
By the age of eighteen I had graduated high school, and I went into the U.S. Navy. Because of drug use, I was discharged from the military, which led to a life of gangs, drugs, and everything else you can imagine with that lifestyle.
Within a year I was arrested twice for drug-related offenses. Then I was arrested for more serious crimes. The one who had been on a mission to prove himself was now facing life in prison. Within an eight-month period, I went from having no adult record to facing life in prison for committing five major felonies.
Just a naïve kid at the age of nineteen, I walked into county jail full of dread. I slept next to hardened criminals. One day in the yard I saw a man reading the Bible. For reasons I still can't describe, I had to go talk to him. This man made it so simple and clear that God can and does forgive, and that he loves even when you fail.
My head spun. All I could remember was that church I had gone to when I was younger. I knew I had to write and ask them to pray, but I had no idea how. I knew the name of the church and the city it was in, but that was it. Despite the missing information, I wrote, asking for prayer because I knew my life hung in the balance. Within weeks I received a letter from a girl I had once met there. She encouraged me that they had received the letter and were praying.
Over the next four months as I went to court, I knew I had to do the right thing and be honest about what I had done. Something was happening to me. From that day in the prison yard when I spoke to the man reading the Bible, I dedicated myself to reading the Bible every day. The words started to change and break me. Everything I had thought important—my reputation and desire for acceptance—was washed away by the words in the Book. I would weep before the other inmates as the Lord touched my life. Instead of ridicule, like you would expect, the inmates would come to me for advice because of the joy and peace I was living in.
I was facing life in prison, but in the end, with complete honesty and some circumstances that only God could have set in place, I received a ten-year sentence. I was so happy that my lawyer couldn't even understand. You see, I came to grips with the fact that I deserved the consequence—anything less was just the mercy of God.
Over the next four years, eleven months and nine days—yes, I remember every one of them—I studied the word of God, taught a Bible study, pastored the men at the prison, and most importantly learned what it means to be forgiven and have a relationship with God.
During this time God was also at work. The girl who had written to me originally continued to write and share how God had touched her life and how she was so in love with him. We wrote for the entire time I was incarcerated. About a year and a half before I was to be released, I wanted to be up-front with this girl and let her know that I had developed feelings for her. To my relief she felt the same, but we decided not to make any commitments or decisions but to wait and see what God would do.
I saw how important I am to my Father even though I had done such horrible things. In 2002 I walked out of prison a free man in more ways than one.
And now I am married to that girl, the girl of my dreams. We have a beautiful daughter and are in fulltime ministry together, discipling young adults and teaching them about their greatness in the eyes of their Daddy in heaven.
The consequences of my actions brought about repentance in my life and the life of my entire immediate family. My father, mother, and sister have all accepted Jesus as their Lord. I have the joy of serving Jesus with my sister to this day.
I lived every one of those moments, and wouldn't change them for the world, except for the pain I caused others. To this day, I pray that they heal and come to God. He made me through that process, and like Paul I can say he loves the worst of sinners! He didn't choose this path for me, I did. I just love the fact that the Master Craftsman can make beauty from ashes. He has set me on The Rock and given me above and beyond all that I could even think to ask for.
I remember the day I walked out of that prison, despite the fear of the unknown. I knew I would be okay and that God would finish what he had started.
God wants to do the same for you. Do you find yourself in a broken place, either by choice or through circumstances out of your control? Turn to God. You are his masterpiece. He has created you to be loved and cared for. You are destined for greatness—not the fake and temporal that we see so often, but eternal greatness. You were designed to have a relationship with God that is based in love and care.
If he can take the broken pieces of my life and make them into what they are today, I have no doubt he can make your life beautiful. He wants to put you on display for all to see your beauty and how great he is to have made you that way. Just look at what the Word of God says about those who have been through similar circumstances.
Some of you were locked in a dark cell, cruelly confined behind bars, Punished for defying God's Word, for turning your back on the High God's counsel—A hard sentence, and your hearts so heavy, and not a soul in sight to help. Then you called out to God in your desperate condition; he got you out in the nick of time. He led you out of your dark, dark cell, broke open the jail and led you out. So thank God for his marvelous love, for his miracle mercy to the children he loves; he shattered the heavy jailhouse doors, he snapped the prison bars like matchsticks! —Psalm 107:10–16 MSG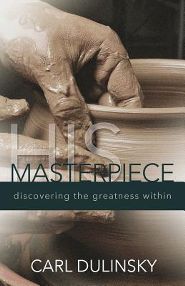 From His Masterpiece: Discovering the Greatness Within, by Carl Dulinsky, copyright 2014. Used with permission.
His Masterpiece is available in our store at http://bit.ly/1lDKIrM