Christmas is a joyful time of the year as our families gather to enjoy each other's company, worship together, and make special memories. Of course opening presents is a highlight. We treasure the thoughtful gifts we receive because they reflect the love of Jesus. But some have more lasting value than others. This Gift Guide features products that can make an eternal investment in the lives of our family, friends, neighbors and coworkers.
Veggie Tales (Big Idea – www.veggietales.com)
Merry Larry and the True Light of Christmas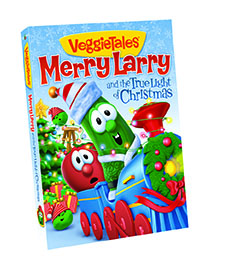 Bob and Larry are going all out to make it the best Christmas ever at the Spring Valley Mall. With music, decorations and a light show like no other, it's an all-out spectacle to outshine the competition! But a little girl with a big heart changes everything when she shows them all what Christmas is really about.
With the voice of Si Robertson of Duck Commander as Silas the Narrator and new music from Owl City featuring Toby Mac. Includes the Silly Song with Larry, "Wrapped Myself Up For Christmas."
Jonathan Park MP3 Audio Adventure Series (Vision Forum – www.visionforum.com)

Calling all boys and girls with vivid imaginations and a love for adventure! Get ready for a thrilling journey down to the depths of the sea, across the desert plains, and up to the starry skies of outer space, exploring the mysteries of God's creation the entire way. Introducing the Jonathan Park creation adventure radio drama on MP3!
For years, Jonathan Park has been equipping parents and children to defend creation truths following young Jonathan and his paleontologist family on exciting creation adventures around the globe. Featuring professional actors and fully dramatized sound effects — just like classic radio dramas of old — Jonathan Park combines exciting stories with a biblical understanding of science, giving families a deeper love for the wonders of God's creation.
Each episode is based on real places and facts, featuring action-packed storylines that reveal specific evidences for Scripture's creation account. Join Jonathan's family and the Creation Response Team as they recover amazing treasures from Earth's past, and discover biblical answers to scientific issues of the day!
Features 108 episodes and more than 46 hours of audio adventure on 9 MP3 CDs.
Adventures in Odyssey (Focus on the Family– www.whitsend.org and www.family.org)
Adventures in Odyssey: Our Favorites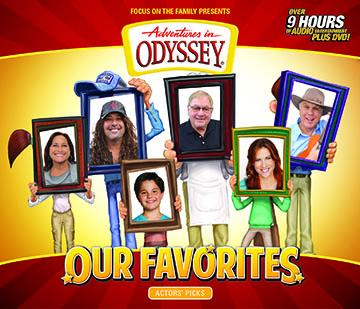 Adventures in Odyssey cast members have compiled their favorite episodes from the past 25 years. Learn why these episodes rise to the top for the voices of Odyssey while you listen to over six hours of values-based entertainment. Don't miss the special bonus feature of the live 25th Adventures In Odyssey Birthday Bash show recorded in Dallas on June 16, 2012.
Episodes
• The Day Independence Came (Donald Long)
• Peace on Earth (Hal Smith), Feud for Thought (Will Ryan)
• Moses: The Passover, Parts 1 & 2 (Chuck Bolte)
• A Class Act (Earl Boen)
• Terror from the Skies (Janet Waldo)
• Tom for Mayor, Parts 1 & 2 (Walker Edmiston)
• Top This! (Corey Burton)
• A Name, Not a Number, Parts 1 & 2 (Townsend Coleman)
• Worst Day Ever (Aria Curzon)
• The Girl In the Sink (Chris Anthony)
• Nothing But the Half Truth (Jess Harnell)
• Living in The Gray, Parts 1 & 2 (David Griffin)
• Silent Night (Paul Herlinger)
• A Thankstaking Story (Andre Stojka)
• The Malted Milkball Falcon (Zach Callison)
• Unbecoming Jay (Andy Pessoa)
• Childish Things (Kimmy Robertson)
• Home Again, Parts 1 & 2 (Katie Leigh)
Danger on a Silent Night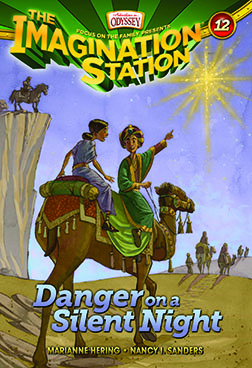 Beth and Patrick travel to the Holy Land. Patrick joins the wise men as they travel toward Jerusalem. Beth winds up at Herod's palace and sees the king's reaction when he finds out about the newly born King of the Jews. The cousins meet up at the palace. Devout Simeon tells them where they can find the baby Jesus. Beth and Patrick set out with the wise men only to discover they've been followed by one of Herod's soldiers. Knowing that death is in store for the Baby Jesus if the soldier finds Him, Beth and Patrick carry out a plan to keep the baby safe.
Passages Volume 1: The Marus Manuscripts
• Arin's Judgment: One minute, Wade Mullins is at home, attempting to destroy top-secret drawings for the atomic bomb. The next minute, he's in an alternate world staring at a strange prophet who says Wade is the final sign, an end-time omen of a culture on the verge of annihilation.
• Darien's Rise: Anna wanted superpowers, but now she's not so sure after being transported to a new planet. She sees visions of the future. And her brother Kyle is a bodyguard who can't fail. But both of their powers are only used to help Darien, the rightful heir to the throne of Marus. Darien is being held by a man so evil, not even Anna and Kyle can save him.
• Annison's Risk: Maddy finds herself in a strange new land called Marus where a conquering king is about to marry a princess. The king's most trusted adviser is hatching an evil plot to stamp out followers of the "old faith," and Maddy discovers that plan includes the new princess. Should Maddy reveal the truth and usher in political chaos? Or will the princess have to give up her life to bring peace?
Video And Audio Bibles, Classics Audio Library (Hendrickson –www.hendrickson.com)
NKJV Video Bible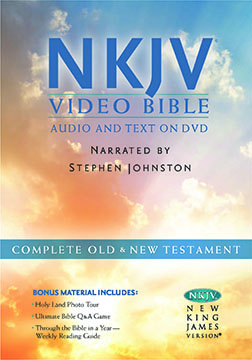 The New King James Version® Video Bible, narrated by Stephen Johnston and an Emmy, Tony and Golden Globe Award-winning cast, has many helpful features. This edition includes the complete Old and New Testament, along with the Through the Bible in a Year Weekly Reading Guide, which allows you to see and hear the complete Word of God in a convenient 52 week format on your television or computer.
• Over 70 hours of Dolby Digital® Stereo Audio on one DVD
• Dramatized multi-voice narration of the Old and New Testament
• Optional Through the Bible in a Year Weekly Reading Guide
• Synchronized graphics and text showing every verse
• Widescreen (16:9) and Full Frame (4:3) display
• Interactive menus that allow direct access to any book or chapter
• Optional playback modes including:
—Play a single chapter—Play a single book—Play a weekly portion of the Bible with the 52 Week Bible Guide
• Continuous play of the entire Holy Bible
• No Region Coding
• NTSC TV format
Bonus Material includes
• Ultimate Bible Q&A Game—Hundreds of questions to test your Bible knowledge
• Holy Land Photo Tour—Enjoy scenes of the Holy Land with your choice of three audio tracks
Hendrickson Christian Classics Audio Library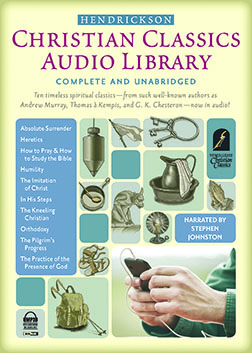 The Hendrickson Christian Classics Audio Library, masterfully narrated by Stephen Johnston. Includes a booklet with introductions to each book.
Ten Classics on One DVD
• Absolute Surrender, Andrew Murray
• Heretics, G. K. Chesterton
• How to Pray & How to Study the Bible, R. A. Torrey
• Humility, Andrew Murray
• The Imitation of Christ, Thomas à Kempis
• In His Steps, Charles Sheldon
• The Kneeling Christian, Anonymous
• Orthodoxy, G. K. Chesterton
• The Pilgrim's Progress, John Bunyan
• The Practice of the Presence of God, Brother Lawrence
Hendrickson My-iBible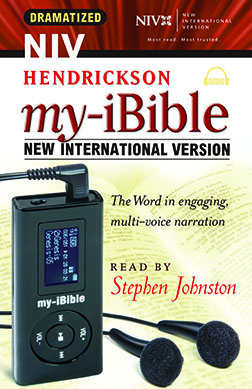 The ultimate "portable Bible" . . . now available in the KJV, NKJV, NASB, NIV, and ESV translations
The Hendrickson My-iBible is the perfect companion for commuting, exercising, or just seeking refreshment from the Word of God. Convenient LCD display navigational controls allow users to go to any passage.
Features:
• Voice only
• Self-contained: text cannot be erased by accident
• Includes earbuds and charger cable with A/C adapter
The Neighborhood Café Kit (www.theneighborhoodcafe.net)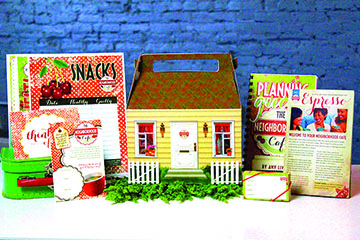 The Neighborhood Café Kit by Amy Lively includes everything you need to love your neighbors in a whole new way:
The Book The Neighborhood Café: A Whole New Way to Love Your Neighbors Without Being Weird explains how the first Neighborhood Cafe began, and how you can begin one, too!
• Explore how Jesus loved his neighbors, and learn from Amy's experiences in her own neighborhood.
• Each chapter concludes with "A Second Cup," interactive questions that will get you thinking about your own neighborhood.
Planning Guide shows you step-by-step how to start, lead and grow your Neighborhood Café.
• Includes a hostess covenant, calendar worksheet, invitation notes and RSVPs, open house checklists, recipes, shopping lists, follow-up notes and a master guest list for attendance.
• Instructions for maintaining your Café's private Facebook group.
• Convenient spiral-bound book easily fits in your purse.
Open House Invitations with space to fill in your name, phone number, address, the date and time of your open house.
• 48 full-color, 4 x 6˝ invitations on quality cardstock paper.
• Lined back for a personal note from you.
Espresso Mini-Magazine, written exclusively for the Neighborhood Café, guides your guests' conversations for six different Café sessions. Espresso opens with light conversation starters and progresses to deeper discussions about faith and friendship.
• 12 full-color copies, 8 pages.
• Download the free leader's guide online, a practical, adaptable guide that includes additional Scriptures, icebreakers, community service projects and more discussion questions.
Reminder Cards to remind guests when to come back to your next Neighborhood Café.
• 24 full-color, double-sided business cards for your contact information and future Café dates.
"Thinking of You" Cards so you can follow up with a personal note to your guests.
• 24 self-mailing, full-color greeting cards.
Macchiato Moments, a Neighborhood Café Edition music CD by Lisa Troyer creates a soulful atmosphere as your guests gather
• Lisa Troyer and Dawn Yoder's catchy melodies in beautiful harmony set the stage for your Neighborhood Café.