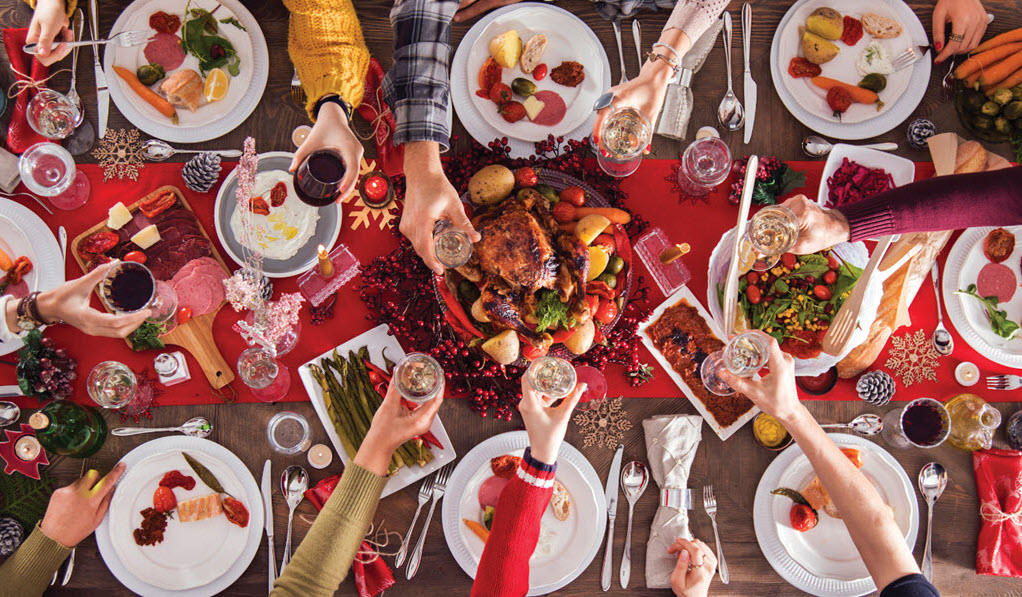 How to Host a Christmas Gathering
If you ask Joyce, she'll tell you she's not a visionary. Christmas Gatherings didn't begin as a clear calling, as a larger-than-life vision, or as a well-laid plan for global evangelism. There were no announcements, no strategic planning meetings, no campaigns. It seems fitting Christmas Gatherings were born quietly, much like the birth of the One they celebrate.
They began as a whisper between friends: "Remember when Campus Crusade for Christ (now known as CRU) had neighborhood coffees? We should do that again."
Joyce took a moment to process the suggestion. Her first thought was, "Oh gosh, bless her heart. She wants me to do something, but I don't have a clue." Then she asked, "How would we do something like that?" A week later, she was speaking at her friend's Bible study, assisted by Nancy, another friend and Joyce's disciple.
As Nancy watched and listened to the Bible study group, God softly spoke to Nancy's spirit. She slipped a note in Joyce's pocket. In 10 days, she was going to invite her neighbors to a similar gathering. Joyce would come and present a simple gospel message.
Twenty-six ladies came to that first Christmas Gathering in 1983. They chatted amongst themselves, enjoyed Christmas treats, and talked about their Christmas traditions. Before they left, Joyce explained the true meaning of Christmas and how each of them could know Christ personally. Nancy invited them all to join a Bible study in her home. Sixteen ladies attended the follow-up study.
The Birth of a Christmas Gathering Movement
At first, they grew slowly, mostly in the Minneapolis area where Joyce and her husband, Rich, were on staff with Campus Crusade for Christ. It grew by word of mouth, among people at Joyce's church, then other area churches. Joyce was speaking at every gathering, while raising two young children and working with students on campus.
Then the whispers got a little louder. In the 1990s, the leadership of Women of Faith (a ministry that encourages and equips women to experience a deeper relationship with Jesus) invited Joyce to introduce Christmas Gatherings to the ladies involved in their ministry. They began popping up all over Minnesota and the Midwest. Joyce was now training other people to speak and providing instruction manuals for Christmas Gathering hosts and speakers.
The first real shout was heard when Dennis Rainey invited Joyce and Vonette Bright (wife of CRU's founder, Bill Bright) to speak on his radio broadcast "Family Life Today." Vonette talked about the importance of hospitality and Joyce told the audience about Christmas Gatherings. At the end of the program, Rainey challenged 1,000 people to host Christmas Gatherings in their homes. In the end, he mailed out over 1,000 manuals. It was now a national ministry, reaching untold people across the country.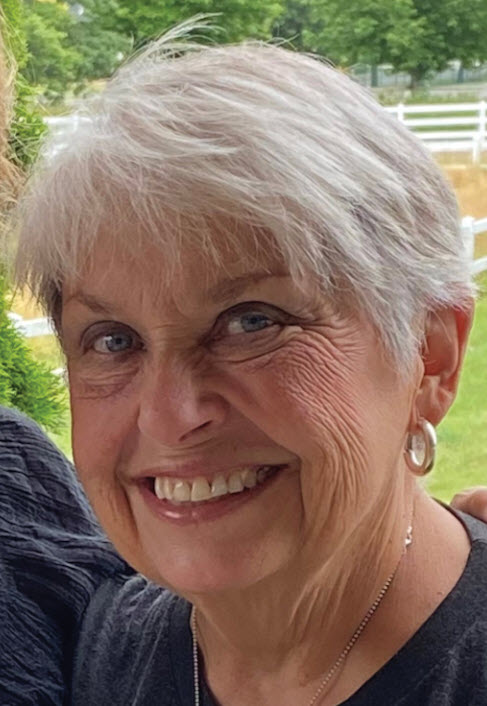 But God didn't stop there. Joyce's sister was a missionary. She loved the idea so much, she adapted it and took it back to Germany with her. Since Germans tend to sit and talk around the table, rather than in the living room, she limited the group to eight people and called it an Advent Coffee. She adapted the manual and began training others.
Fifteen years after the birth of this ministry, Joyce was invited to introduce the idea at an international women's conference. During the conference, she hosted a Christmas Gathering for all 120 women in attendance. She handed out the training manual, explaining through an interpreter that they'd need to find someone to help them translate it. Before long, she was getting invitations to help train hostesses and speakers in places like Guatemala, Hong Kong, Czechoslovakia, and Puerto Rico. It became a truly global ministry.
Joyce explained, "In a sense, it was like the fire of God spreading and I just was sitting back in tears thinking, 'Oh God, what did you do?'"
Evangelism That Works
It would be impossible to say how many lives have been touched by Christmas Gatherings worldwide. Joyce has only kept records for her own church, Grace Church in Minneapolis. Church families have hosted more than 1,200 Christmas Gatherings over a 30-year period. She also tells of a congregation in Detroit that, in a single year, hosted 50 gatherings after their pastor put on a small drama demonstrating a Christmas Gathering and encouraging his people to go public with their faith. Another pastor in India was responsible for initiating over 50,000 (yes, you read that right!) Christmas Gatherings in his country.
The real question is not, "How many Christmas Gatherings have been hosted?" The real question is, "How do people respond to Christmas Gatherings? Are they an effective way to tell others about the Good News of Christ?"
In a word, yes. Based on the responses left on comment cards, handed out at the end of the evening, 1 in 12 people pray for salvation, 3 in 12 are eager to learn more through a follow-up Bible study, and the remainder are largely positive comments about how much they appreciated refocusing on the true meaning of Christmas or enjoyed spending time with their friends and neighbors.
There are very few negative responses, even from those not open to the Good News of Christ's birth. One self-proclaimed agnostic said she attended a second gathering just to see whether both speakers were equally sincere about their faith. When she discovered they were, her conclusion was, "I'm really going to have to think about what I've heard tonight."
When asked why she thinks people, even people antagonistic toward Christianity, are willing to attend Christmas Gatherings, Joyce made three astute observations.
First, it follows the example set by Christ. Many of the life-altering moments He had with people took place in someone's home, often over a meal. Jesus was eating at a Pharisee's home when the repentant woman bathed Jesus' feet in perfume with her hair (Luke 7:36-50). He was also teaching some religious leaders in someone's home when the lame man was lowered through the roof and Jesus healed him (Luke 5:17-39). And when Zacchaeus strived to get a glimpse of the Teacher, Jesus promised to come to his house (Luke 19:1-10). In all three instances (and there are more), God used these opportunities not only to heal someone, either physically or spiritually, but to teach those observing about the true heart of God.
Second, it invites your neighbors, some of whom would never darken the doorway of a church, into your home and your life. They enjoy your hospitality, maybe a meal or some treats, and your Christmas decorations. They also get to know you and the others at the party a little better. It can help dispel myths and misunderstandings about who and what Christians are. Since everyone knows in advance that someone will be giving an inspirational message about Christmas (it's in the invitation), no one is ambushed with the gospel.
And third, people are just more spiritually receptive at Christmastime. Traditional carols about the birth of Christ are pouring out of the loudspeakers in stores. Nativity scenes pop up in front of churches and homes. Christmas cards with images of Bethlehem and the Three Wise Men are circulating. Many people who dismiss the spiritual aspects of Christmas still celebrate it. And even those who don't celebrate Christmas might be curious about it.
Joyce heard about a Christmas Gathering held in a predominantly Jewish neighborhood. The Christians who attended were concerned the Jewish women might have been offended. The Jewish women thoroughly enjoyed learning more about the meaning behind and traditions surrounding Christmas. It's a beautiful way to bring people together and potentially build unexpected relationships with an eternal purpose.
A Ministry Matured
What was born quietly in a Midwest suburb has now matured into a thriving ministry. Not because Joyce is a super-spiritual Christian, but because she obediently followed where God was leading her. And she didn't do it alone. It was also Nancy's obedience to where God was leading her, and the obedience of countless others who opened their homes to friends and neighbors for a conversation about the Savior of the world.
It was through the obedience of pastors who challenged their congregations to reach their neighborhoods. It was through the obedience of a Stonecroft Ministries leader who used Christmas Gatherings to find people interested in doing community Bible studies. It was through the obedience of a pastor in India who incorporated Christmas Gatherings into his church-planting ministry.
It's amazing what God can do through His people, when they are willing to do what He asks them to do. Joyce is quick to say she's taken a very hands-off approach to this ministry. She hasn't kept records or tracked responses. She doesn't take credit for the fruit it's produced over nearly 40 years. She simply knows seeds were planted and lives changed, by the power and will of God.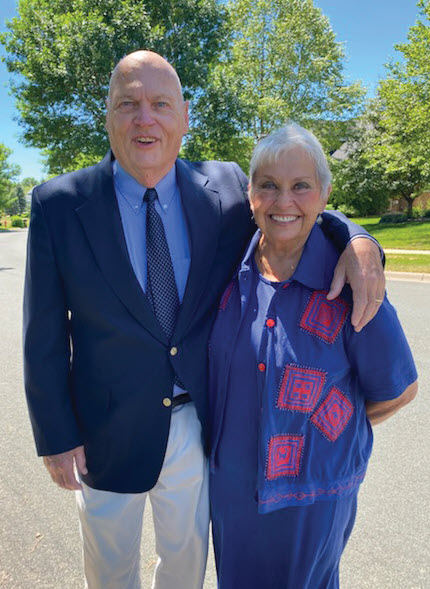 "I think someday in heaven I'm going to be shocked" by the number of people touched by this ministry. "I've been blown away. I've been on my face before Him, in tears with joy, you know, by what He's allowed me personally to see." 
Host a Christmas Gathering
Anyone can host a Christmas Gathering. You just have to be willing to open up your home to friends or neighbors — or both. It doesn't have to be anything fancy. Just invite folks over for coffee and treats. If it seems like an overwhelming task, invite someone to help you host and share the work. You'll also have a prayer partner and encourager by your side.
And don't worry if you wouldn't know how to explain the gospel to someone. At Christmas Gatherings, you initiate conversations about Christmas traditions through guided questions, but you invite a speaker to come in and talk about what it means to receive Christ and follow Him.
Joyce has created instruction manuals for those hosting and those speaking. They are available through her website christmasgatherings.com. This ministry also provides preprinted invitations for you to send (a package of 40 costs $12.00). There's other helpful information there, too — everything you need to know about hosting a party. Just hit the "Get Started" button or go to www.Christmasgatherings.org.