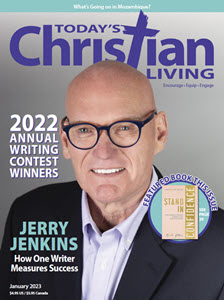 The digital magazine can be seen only by paid members who are logged in.
Have a website login already? Log in and start reading now.
Never created a website login before? Find your Customer Number (it's on your mailing label) and register here.
Not a Subscriber? JOIN HERE
Still have questions? Contact us here.
On the Cover: Jerry Jenkins, jerryjenkins.com
Features
6 A Lifelong Pursuit
by Stephanie Rische
Jerry Jenkins shares valuable insights gained and lessons learned throughout his writing journey.
12 1st Place Contest Winner
Alem's Hope
by Cindy Richardson
When God broke through Alem's suffering and anger, her sorrow turned to joy. Read her story, told by her now-dear friend, Cindy.
14 2nd Place Contest Winner
Faith is Spelled R-I-S-K
by Annie Yorty
When heath issues threatened to cancel her upcoming mission trip to Belarus, God helped Annie overcome seemingly insurmountable odds.
16 3rd Place Contest Winner
The Great Purpose of Cheese Sandwiches
by Krystal Boelk
Grand gestures have their place, but it's faithfulness in the small things God usually asks of us. See how Krystal's obedience touched her neighbors.
20 Called to the Poorest of the Poor
An interview with Heidi Baker, Iris Global Ministries
The work is difficult, dangerous, and filled with untold blessings. Read about the life journey that took Heidi and Rolland Baker to Northern Mozambique and their work there.
23 The Best Way to Encourage Kids
by William Daniel
Let this recently published young author offer some advice, from a kid's perspective, about how adults can encourage younger generations.
26 The Only Thing That Matters
by Cheryl Weber & Andrew Zimmerman
Sometimes we have to reach the bottom before we're willing to reach up for help. Andrew's story is a testament to God's unfailing care, even through rebellious seasons.
35 A Writer's Entrance Exam
by Bob Hostetler
A little light-hearted fun for the writers, or those who love a writer.
41 Writing Contest Honor Roll
A tribute to God's faithful servants honored by our contest entrants.
47 The Heavens Proclaim Him
by Michelle Adserias
God has revealed Himself where He dwells, in the heavens. We simply need to look around to see evidence of His glory.
Columns
5 Living in Wisdom Hope
18 Ask Dr. Walt
New Year's Resolutions
24 Dave Says
The Disappearing Paycheck
30 Turning Point
From Foe to Fluffy Furball
42 Persecution Report
Rising Persecution in Mozambique
46 Grace Notes
The Great Exchange