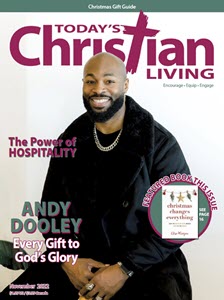 The digital magazine can be seen only by paid members who are logged in.
Have a website login already? Log in and start reading now.
Never created a website login before? Find your Customer Number (it's on your mailing label) and register here.
Not a Subscriber? JOIN HERE
Still have questions? Contact us here.
On the cover: Andy Dooley, http://www.andyldooley.com
Features
5 Mary, Jim, and Spiderman
by Ellen Wehn
Consider, with Ellen, whether putting on a Christmas pageant is really such a good idea.
6 Every Gift to God's Glory
by Stephanie Rische
Andy tapped into his gifts to find ways to minister during tumultuous times.
12 The Quiet Birth Heard Round the World
How Christmas Gatherings grew from a local outreach to a worldwide ministry, and how you can get involved, too.
14 Prepare
by Michelle Adserias
Like the frosty fall prepares us for winter, God sent forerunners to prepare the world for the Messiah.
16 Christmas Gift Guide
Finding the right gift for the people on your list can be challenging. Here are some resources that will help make your task easier.
Columns
10 Living in Wisdom
Sacrifice
37 Turning Point
Redemption on the Broken Road
40 Ask Dr. Walt
Are Smoothies Nutritious?
42 Persecution Report
Compelled by Compassion to Pray
44 Dave Says
The Upside- Down Vehicle Lien
46 Grace Notes
The Closer