Use COVID-19 Downtime to Spark Healing Conversations
By Blythe Daniel
Many of us remember huddling together with friends by a campfire singing, "It only takes a spark to get a fire going…" from the song "Pass It On." Fast forward to today and we can all reflect on what we have passed on since our youth, including what we bring into our homes. Recently we have been cozy in our homes, circled up while the rest of the world is sheltering in place, focusing on the health of our own family and thinking of others who have been impacted. We've been watching, waiting, and have wondered "what's next?"
For some, there's been a spark in this season that's ignited our relationships and the emotional health of our families. One conversation sparks another, which turns into a deeper, closer connection than we had before. Little did we know that we needed the reset with our family.
Jay, a pastor friend, recently shared with me that his time of being at home with his family was "an absolute blessing for us because it was time we wouldn't have had together. It reinvigorated us for when we get back to a time as a family outside of this crisis," he shared.
Because of the uncertainty of the days and weighted anxiety, a door opened for Jay to be in touch with several family members, including his sister, who started showing interest in his online messages.
Jay shared, "There's been a chasm between us for the past decade, perhaps since when I followed the call to be a pastor, but a bridge has been started, which has led to actual conversations, not just surface ones. This has created greater depth and rekindling. It feels like we are coming back to a relationship that used to be. Jesus is playing a visible role in it."
During the pandemic, his sister, aunt, and a cousin started engaging with his church's online services and social media feeds. "I never thought I'd see this happen." He added, "I was reminded that suffering is a doorway for Jesus to walk through. That's what is happening with my family. As Jesus gets through for even a little while, I believe it makes a difference."
This is a moment when his family's hearts are more open than they've ever been, he said, and they have made room for more seeking. Jay was also at home fighting illness from COVID-19. "I really had to actively fight against letting fear win. Your human response is fear: the fear of not knowing how bad it would get or how much worse, or if it turns tragic and I don't get to be with family anymore. Every day I reminded myself 'faith over fear.'"
Another friend, Sharon, shared about the relationships with her daughters that came about during the stay-at-home season as a time of intentionality.
"My daughter, who was living in one of the hardest hit areas, came home," Sharon said. "We've had hours to practice listening together using the acronym LUVR [Listen, Understand, Validate, Respond]. Listen with attentive body language and eye contact. Understand by mirroring what we heard the other say and ask, 'Is that right?' Validate the other's feelings without having to agree but using words like, 'It makes sense you feel that way.' Responding if given permission after sharing 'Would you like any feedback?' We've had the gift of time to work with a counselor online as well." Sharon said they were walking and talking every day, watching church services together, and "our relationships were uniquely encouraged."
"We have been playing card games almost nightly. And for the first time in 20 years, we have been cooking at home and trying some themed–night' recipes. We have been able to do a lot of relationship work because of our time together."
Having the time to listen, and a conscious decision to make that a goal, has been a result of this season. Conversations about relationships are on the front burner of my heart, as I have an important relationship with a daughter that's been broken for two years. I'm taking responsibility for my part in the rupture while I accept where we are. I offer to hear her in an effort to listen well. I want to try to empathize without explaining the reasons for my past behavior. The goal is to be kind, practice love, and wait for what God will do. The quarantine is providing the time to do just that."
As I reflect on my friends' words, I'm reminded that as a mother of two daughters and a son, I know that what I say and how I enter this time with my family sets the tone in our home. These weeks at home cause us to reflect on what matters most. Families matter. Relationships matter.
When looking at fragile relationships, "You don't have to address all the history between you but you can start today in the present using words that are respectful and keep us from blaming, arguing, or heading in the wrong direction with each other," said my mom Dr. Helen McIntosh, referencing the conversation starters in our book Mended: Restoring the Hearts of Mothers and Daughters.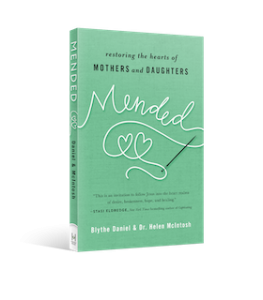 While people have been at home, social distancing isolates them from others, which may cause them to feel distant with family members. We've seen how family distancing across the miles brings a gap that these times of focus can help you address to bring about a new pattern for relating.
"Many have experienced grief, which is about loss and change. There's relational loss with the family from the social distance, but we know it's possible to initiate repairs so you don't feel the physical separation," McIntosh shared.
In this season, we've had the greatest opportunity to connect with those who live far away, who haven't called in a while, or who may be seeking God on a deeper level. How will we continue to show up for the people we need to talk to? We've seen families record video testimonials and send old-fashioned letters to bring their family together. Starting with, "I don't know exactly what to say, but I care about you."
The spark that you start in your home can be passed onto extended family, neighbors, and friends who in turn pass it on to their family members and so on. Not all that looks like desolation is left in ruins. Up from the campfire comes thankfulness, grace, and contented hearts, centered on the One who brings us together and redeems even the times we count as difficult. He brings an appointment out of disappointment. How will you live in the appointments God has given you with your family?
To read more about how to initiate restoration in your own family, visit ourmendedhearts.com. Download the free conversation starters for your family.

Blythe Daniel is an author and literary agent. She writes for magazines, speaks at writers' conferences, and shares about publishing on podcasts. She links bloggers with readers through BlogAbout. Her passion is helping authors share their unique stories. She and her mom, Dr. Helen McIntosh, have co-authored Mended: Restoring the Hearts of Mothers and Daughters. She lives in Colorado with her husband and three children.