Featured image: Exterior rendering of the eight-story, 430,000-square-foot Museum of the Bible. The entrance is flanked by 40-foot portals, comprised of 118 highly crafted brass panels, containing the first 80 lines of Genesis written in Latin. (Photo credit: Smith Group JJR)
High-Tech Museum in the Nation's Capital Will Shine Spotlight on Scripture
By Ken Walker
Seven years after the Green family of Hobby Lobby fame established the Museum of the Bible as a federally recognized nonprofit organization, the 430,000-square-foot Washington, D.C. attraction is scheduled to open its doors Nov. 17.
To say it will be impressive is an understatement. Its grand lobby features a wall-to-wall, 140-foot LED ceiling. Atop the building sits a two-story, window-clad rooftop gallery with performing arts hall, biblical garden, and 420-seat ballroom overlooking the National Mall.
The eight-floor museum includes a $42 million self-guided digital visitor experience, 3-D interaction with biblical artifacts and other exhibit features, and touches of virtual reality. A personalized, running commentary in 10 languages will inform guests while guiding them to exhibits, theaters, and other attractions.
Meanwhile, 9-to-12-year-olds will be attracted to a unique environment created by New Zealand-based Scarlet City Studios. The gaming studio modified its biblically inspired narrative, "The Aetherlight," to create a story about a time traveler collecting historical artifacts. Players will be paired with a robot companion who will assist them in completing various missions.
In addition, a 360-degree projection mapping system will be used in the 472-seat performing arts hall called the World Stage Theater, which will use 17 state-of-the-art projectors that can transform the venue into a digital canvas.
Yet at the heart of these visually and technologically stunning displays is a love for the world's oldest, best-selling, and decidedly low-tech book: the Bible. It is the most insightful and useful guide available for life, said Museum President Cary Summers.
Take a single book like Nehemiah, which contains five dozen principles for how to operate your life, business, and family. Cary calls it an operational manual for life that works, and the reason for that is because it is the Word of God.
"I get really excited about the Bible," said Cary, former president and CEO of Herschend Family Entertainment/Silver Dollar City Corporation. "If people will give it a fair shot, will take time to read it, and engage with it . . . it will give you that spur, that inspiration, that oomph to go out there and do it yourself."
With its senior leadership coming from a mix of denominational backgrounds and viewpoints, the museum is non-sectarian. Nor will it delve into politics, social ministry, or other endeavors. Its sole purpose will be to present the Bible and proclaim: Here's the only divinely inspired book ever written. Give it a shot. Pick it up and read it and see what happens.
To encourage such exploration, the museum will include dozens of hours of content on the digital docents guiding visitors through displays on its three 55,000-square-foot exhibit floors. While no accurate projection of first-year attendance is available because the District of Columbia is an international tourism destination, the museum is expected to attract both domestic and international guests.
It is likely that a variety of antiquities experts, numerous librarians, and other museum directors that use the Bible as the basis of their work will also come to the nation's capital to see the Museum.
Two years ago, the Museum formed a long-term alliance with the Israel Antiquities Authority to fill gallery space. More than 60 universities from around the world are participating in its Scholars Initiative, which pairs younger scholars with more established analysts to work on artifacts in the Museum's collections.
Strategic Location
Assorted political and governmental leaders are also likely to inspect the Museum, thanks to its location just three blocks south of the U.S. Capitol.
However, Cary points out the Greens didn't acquire the building for its proximity to Congress, but because the structure (once home to a refrigeration warehouse and interior design showcase) was the only one available near the National Mall.
Since 23 million tourists come to Washington, D.C. annually, including 20 percent from outside the country, the Museum's president sees it as a great opportunity for the world to obtain a better understanding of Scripture.
"We put $42 million worth of electronics into this building to engage people, to get them interested, and to view the Bible in ways they never thought about," Cary said. "We can't predict what will happen after people come and see this.
"We believe our charge is to put it out with the highest academic standards possible, to make it engaging with high creativity, and to make it global with 10 languages you can tour the museum in. We just have to let God do with it as He pleases."
It will be hard to miss the Museum's debut; national media outlets started spotlighting the forthcoming opening earlier this year.
In addition, Nashville's Worthy Publishing recently released the first of nearly two dozen titles under its new Museum of the Bible Books imprint. The Illuminated Psalms Journal (Sept. 19) will be followed in early October by Inspired by the Word and Children of the World Storybook Bible.
In addition, the first week of November will see the release of This Dangerous Book: How the Bible Has Shaped Our World and Why It Still Matters (Zondervan) by Hobby Lobby President Steve Green and his wife, Jackie.
In the book, the co-founders and primary curators will share the challenges they faced putting together a museum on the Book and why generations throughout history have risked their lives to preserve it.
The Greens also delve into how cutting-edge technology gives new insight into the Bible's authenticity. That includes the work of 50 scholars who recently uncovered hidden details about 13 unpublished Dead Sea Scroll fragments.
Various members of the Green family come from a broad spectrum of theological viewpoints, some different than Cary's. But all embrace the same passion of placing the Bible back in the center of the global conversation.
For Cary, who got involved by assembling a research team in 2010, the inspiration to do so originated with Billy Graham. During a guest appearance on the old Larry King Live talk show, the renowned evangelist was asked when he was going to retire.
"If I read the Bible right, you don't retire," Graham replied. "You just die. I'm just going to die one day. But I have no intention of retiring."
"That inspired me," says Cary, who at 66 is entering a new phase of his career — at a time when many seniors head for the sidelines. "That became my story too. It dawned on all of us that this project is going to be the biggest thing we are ever going to see in our generation — you, me, the Greens, everyone else. To be able to run to the goal line like Paul and die doing it, that's what I'm going to do."
Biblical Influence
There is an even more personal reason behind Cary's pursuit of helping build a world-class attraction: the Bible's role in him coming to faith in Christ. Although baptized at the age of 13, he admits not making Jesus Lord of his life until his early 20s.
Then, after working in several business endeavors, Cary faced a pivotal decision about his future. Ultimately, a key factor in his decision came through advice from the late Bill Bright, founder of Campus Crusade for Christ (now known as Cru). Bill convinced Cary he should take the lessons he had learned thus far and use them to build theme parks that would attract people who would never set foot inside a church.
"I prayed about it and God said, 'Yes, that's exactly what I want you to do,'" Cary recalled of his entrance into running one of the world's largest entertainment companies. "So, if you take three elements there, one is the initial decision to accept Christ. The second is to make Him Lord of your life. The third is to allow Him to do with your life what He wants to do. All three of those involve dedication to the Bible."
So when Cary — who travels regularly to share the Museum's story — encounters young people delivering pizza or other entry-level jobs, he counsels them to not take that opportunity for granted. God will use every experience in your life for good and to shape your character if you let Him, he advised.
Interestingly, over the past five years as he crossed the nation (and the world), Cary has discovered the millennial generation is one of the most aggressive in wanting to discover what the Bible says and how it applies to their lives.
"They want it to be interesting, engaging, interactive, and something they can relate to," Cary said. "That's what we are trying to do in the Museum. We are excited to see if we can do that. If the Museum in D.C. allows us to do that, maybe we can be a catalyst for other people in our world, to get them engaged with the Bible. We haven't given up hope on that. We've found it a very exciting time to see how that can be turned around."
To watch a video "fly-through" of the Museum, get ticket information, and dive deep into other fascinating details, visit www.museumofthebible.org
Ken Walker is a freelance writer and book editor from Huntington, West Virginia. He has been a regular contributor to Today's Christian Living for the past decade.
By the Numbers
Six of the eight floors at the Museum of the Bible will be open to the public, with the others reserved for research, conference halls, and administrative space. The public spaces will include a 472-seat theater, which will stage Broadway's Amazing Grace: The Musical from Nov. 14 through Jan. 7.
A recap of the museum:
Total square footage: 430,000
Central exhibit floors: three (History, Narrative, and Impact of the Bible)
Construction, demolition and property costs: $500 million
Workers on-site at construction's peak: 500-600
Time required to read every placard, see every artifact and experience every activity: nine days at eight hours per day
Length of giant LED ceiling running the expanse of grand lobby: 140 feet
Ballroom: Dinner seating for 420 and lecture-style seating for 630
Number of biblical texts and artifacts on display on History floor: More than 500
Floor Overview
First floor: Lobby, atrium, media wall, gift shop, children's gallery and affiliated libraries, mezzanine, and coffee shop
Second floor: Impact of the Bible gallery
Third floor: History of the Bible gallery
Fourth floor: Narrative of the Bible gallery
Fifth floor: Long-term exhibit space for international museum galleries, performing arts hall, office, conference hall, research library
Sixth floor: biblical garden, viewing gallery, gathering room event space, restaurant
Other Exhibits
The museum launched its first traveling exhibit in 2011 — a collection of about 400 items that has made stops in such places as Colorado Springs, the Los Angeles area, The Vatican and Cuba. There are also planned exhibits that will tour across Europe and Asia.
As a global organization with a mission to invite all people to engage with the Bible, Museum of the Bible's intent is to have a presence in cities around the world. It is exploring options for how to further expand its presence beyond Washington, D.C.
Cutting-Edge Technology Creates Tiny Bible
By Dan Brownell
In early 2017, two entrepreneurs launched WearABible (www.wearabible.com), a company that embeds microscopic Bibles in jewelry to create a unique blend of faith and fashion.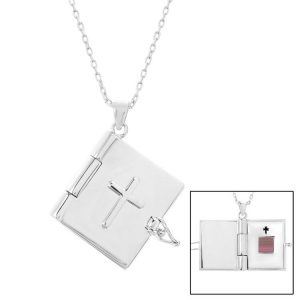 The founders were inspired to create what they call the "Nano Bible" when they visited the Israel Museum in Jerusalem and were awed by the world's smallest Torah. Written on a nano-chip, the miniscule Torah is magnified almost 1,000 times by an electron microscope. Museum visitors use control panels to move the microscope along the chip so they can read the Hebrew text. Deeply moved by the visit, the founders decided to use the same technology to create tiny Bibles and mount them on jewelry to form stunning works of art featuring the Word of God.
Creating WearABible's Microscopic Bible
WearABible's 5mm x 5mm (.19″ x .19″) Nano Bible contains the entire New Testament in original Greek lettering. The individual letters are so small that 200 could fit in the width of a human hair! The tiny marvel is made from a silicon "wafer," a thin slice of semiconductor material typically used in precision printing of circuit boards for electronics. The process takes the Bible through three manufacturing steps before it is mounted on a piece of jewelry and packaged for sale.
Step One: Manufacturing
Starting with a silicon wafer 200mm (7.87″) in diameter and 0.7mm (.03″) thick, a deposit of silicon oxide and aluminum are layered onto a substrate and coated with a photosensitive material or photoresist.
Step Two: Lithographing
The text is printed on a transparent mask four times larger than the final print on silicon. The mask image is exposed onto the photoresist surface, which reduces to the final size for final output.
Step Three: Developing and Etching
Aluminum is etched through the photoresist layer, copying the pattern onto the aluminum layer. Then the photoresist material is removed, resulting in what looks like reverse puzzle pieces.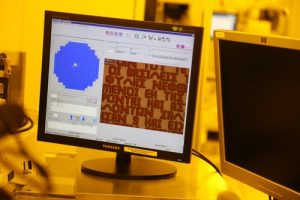 Mounting and Packaging for Sale
To prevent letters or words from inadvertently being damaged, a protective layer made from Silicon OxiNitrade is deposited onto the etched surface. This way, fingers and other abrasive surfaces can't erase any part of the Bible. The Nano Bible is attached to a perfectly fitted slot in the jewelry and the piece is packaged, ready for sale to those who like to keep God's Word close to the heart.