The digital magazine can be seen only by paid members who are logged in.
Have a website login already? Log in and start reading now.
Never created a website login before? Find your Customer Number (it's on your mailing label) and register here.
Not a Subscriber? JOIN HERE
Still have questions? Contact us here.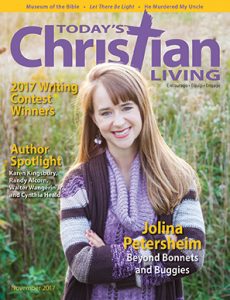 On the cover: Award-winning author and speaker Jolina Petersheim
Features
6 Beyond Bonnets and Buggies
by Stephanie Rische
Jolina Petersheim creates riveting novels about the simple life of the Amish. Drawing on her childhood experiences, she portrays her characters warts and all, showing their need for grace and the gospel too.
12 1st Place: A Babysitter's Legacy
by Nancy Krampert
Edna Purcell led 9-year-old Nancy Krampert to the Lord, changing her life forever. Decades later, prompted by her gratitude, Nancy set out on a search to find her long-lost mentor.
14 2nd Place: Violet Miracles
by Julianne Gott
Doctors advised Julianne Gott to terminate her pregnancy, but the Lord confirmed her decision to go full-term through a special name and a delicate purple-shaded flower.
16 3rd Place: Giving Her All
by Cindy O. Herman
Cindy found joy and success in her job, but then it was yanked out from under her. Bitterness threatened to destroy her, but then she discovered the Lord had a greater plan.
20 Museum of the Bible Opens the Word of God to the World
by Ken Walker
The high-tech Museum of the Bible will showcase Scripture's pivotal role in history. Just blocks from the Capitol Building, it's expected to draw visitors from around the world.
30 Let There Be Light
by Dan Brownell
In the new faith-based movie starring Kevin Sorbo, an atheist who experiences a near death experience grapples with the truth that there really is a God and life after death.
36 Author Spotlight
Renowned Christian writers Karen Kingsbury, Randy Alcorn, Walter Wangerin, and Cynthia Heald share insights about writing from their experience.
36 Rhythm and Flow: Keys to Excellent Writing
by Joyce K. Ellis
Effective writing, like a master musical composition, employs a rhythm that's pleasing to the ear. Learn the secret to capturing and holding a reader's attention with smooth-flowing prose.
Columns
10 Living in Wisdom
Serving Others From Head to Toe
18 Ask Dr. Walt
Which Supplements Are Worth the Money?
25 Live Right Now
Lack of Consideration Can Ruin Relationships
26 Turning Point
He Murdered My Uncle
28 Dave Says
Reduce Risk by Following Sound Financial Principles
46 Persecution Report
South Sudan Struggling With Civil War, Humanitarian Crisis
50 Grace Notes
Praying Through Fear
Departments
4 The Fine Print
32 Quick Takes
35 Daily Bible Connection
34 Laugh Lines
48 Kids of the Kingdom