The digital magazine can be seen only by paid members who are logged in.
Have a website login already? Log in and start reading now.
Never created a website login before? Find your Customer Number (it's on your mailing label) and register here.
Not a Subscriber? JOIN HERE
Still have questions? Contact us here.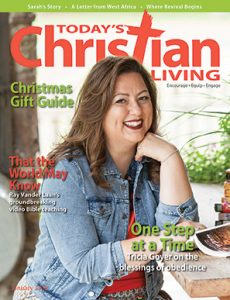 On the cover: Author and speaker Tricia Goyer.
Photo courtesy Amy Bell, Studio Bella Photos and Design www.studiobellaphoto.com
Features
8 One Step at a Time
by Peg Carmack Short
By her mid-teens, Tricia Goyer's life seemed hopeless. How did the Lord lift her from a pit of despair to being a sought-after speaker and author of 70 books?
14 That the World May Know: Experiencing the Bible in Its Original Setting
by Ruth Ann Burrell
Discover how Ray Vander Laan's first trip to Israel inspired groundbreaking videos with a worldwide impact.
20 Sarah's Story
by Jarrid Wilson
When Sarah, a visiting Christian high school student, tearily explained why she couldn't leave her Midwest hometown, Jarrid was speechless.
24 Stops Along the Path of Faith
by Kelli Worrall
Pinpoint where you are on your spiritual journey and learn how to get out of a rut.
32 Christmas Gift Guide
Our annual gift guide is packed with presents to nurture the faith of your friends and loved ones year-round.
Columns
12 Living in Wisdom
Where Revival Begins
18 Ask Dr. Walt
How Effective Are These Treatments?
22 Live Right Now
Provide Loving Support
26 Dave Says
Consider Long-Term Financial Consequences
30 Turning Point
A Letter From West Africa
38 Persecution Report
Turkish President Turns Up the Heat
50 Grace Notes
She Taught Us to Smile
Departments
4 The Fine Print
28 Daily Bible Connection
40 Laugh Lines
42 Quick Takes
46 Quips & Quotes
48 Kids of the Kingdom