While every dinner together as a family is a wonderful time of sharing our lives together in love and fellowship, Sunday dinners are a special time for Christian families. It's a time when we can celebrate our family relationships, but it is also takes place on the day of worship, so it has a special significance. It's a day of reflection, a day set apart from the other days of the week. The Lord intended Sundays to be a day of rest, a time for resetting our priorities and an opportunity to build and strengthen relationships. There's no better time to do that than during a delicious meal together. This is as true for pastors' families as it is for others. In the following excerpts from Sunday Dinners: Food, Family, and Faith from Our Favorite Pastors by Diane Cowan, the families of well-known pastors invite us into their homes to share their favorite family stories and recipes to give us a glimpse of the important role Sunday dinners play in their lives.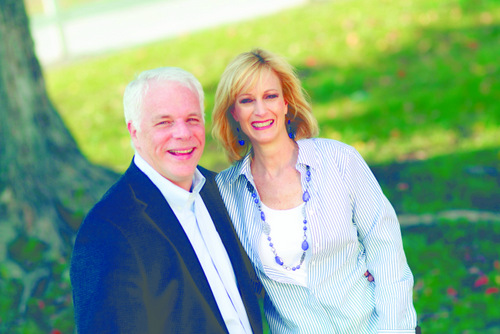 Rev. Mike and Jeannie Glenn
Brentwood Baptist Church in Brentwood, Tennessee
The story about the strawberry trifle—told properly—takes input from the entire Glenn family.
Jeannie Glenn was anxious for a visit from her brother and sister-in-law, Mark and Kay Powers. Valentine's Day was near, so Jeannie wanted to make his favorite cake, from their mother's recipe.
Mike Glenn still laughs at the incident that happened ten years ago. "She was going all out, making it in these heart-shaped pans she had just bought."
But Jeannie didn't realize that the new pans were shallower than the round cake pans she usually used for baking. So as the batter rose, well, you can imagine what happened.
"It was like the blob in our oven," described Mike, senior pastor at Brentwood Baptist Church in Brentwood, Tennessee, a suburb of Nashville. "It was coming out of the pan and dripping over everything, and it wasn't done in the middle."
Jeannie got out another pan and finished off the uncooked batter in it, wondering what she'd do with the mess. Their twin sons—Craig and Chris, who were teenagers at the time—got in on the action, too, gathering in the kitchen to survey the mess. Craig remembers it as a holiday when aunts and uncles were coming over and they all were more than a little preoccupied with getting the house ready and getting food prepared.
"We got it out of the oven and I thought, 'There's no way this will be like Grandma's cake,'" Craig said. "We made do because we had so many people there, and they were expecting dessert."
Jeannie was beside herself, of course, but her family was supportive. "Just put it in your trifle dish, and we'll put ice cream on it," Mike suggested. "That'll be great."
So that's what they did. They cut up the cake, dropped in some ice cream, drizzled icing on top, and declared it strawberry trifle. "It's one of our jokes now," Mike laughed. "If we see something really messed up, we look at one another and ask, 'Do you think we can make trifle out of that?'"
Later, everyone got a good laugh from the out-of-control cake that turned into a beautiful—and delicious—dessert. The story, everyone agreed, was too good not to tell.
-From Sunday Dinners: Food, Family, and Faith from Our Favorite Pastors by Diane Cowen/Andrews McMeel Publishing, LLC 2013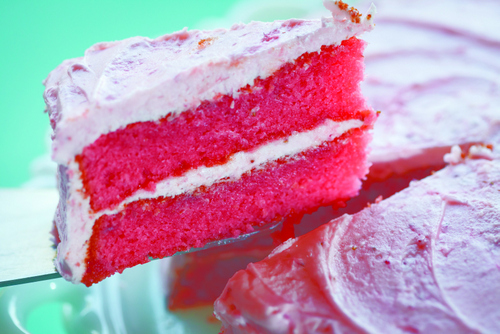 Strawberry Cake
Serves 12
Many Southerners grew up with strawberry cake as a special Sunday treat, and Mike and Jeannie Glenn did, too. This is Jeannie's adaptation of recipes from her mother and mother-in-law and would be a hit on any Sunday dinner menu.
Cake
1 (18.25-ounce) box yellow cake mix
4 large eggs
¾ cup vegetable oil
1 (3-ounce) package strawberry-flavored gelatin
½ cup frozen strawberries, thawed
½ cup water
Frosting
½ cup frozen strawberries
½ cup (1 stick) margarine or butter
3 ¾ cups confectioners' sugar
Preheat the oven to 350°F. Spray two 8-inch round cake pans with nonstick cooking spray.
Make the cake: In a large bowl, mix all of the cake ingredients until combined. Divide the batter between the cake pans and bake for 25 to 30 minutes, until a toothpick inserted into the center of the cake comes out clean. Set on wire racks to cool.
Make the frosting: Put the strawberries in a small, microwave-safe bowl and microwave briefly to thaw. Drain off the juice from the berries and brush the juice over each layer of cake.
In a large bowl, using an electric mixer on low speed, combine the margarine with the confectioners' sugar. Increase the mixer speed to medium and beat until the frosting is light and fluffy. Add the strawberries and continue mixing until the strawberries are completely incorporated and the frosting is pink.
Invert one cake layer onto a cake plate. Spread 3/4 cup of frosting onto the top of the cake. Invert the second layer of cake onto another plate, then transfer it to the top of the frosted bottom layer of the cake.
Cover the top and sides of the cake with the remaining frosting. Cut into twelve slices and serve.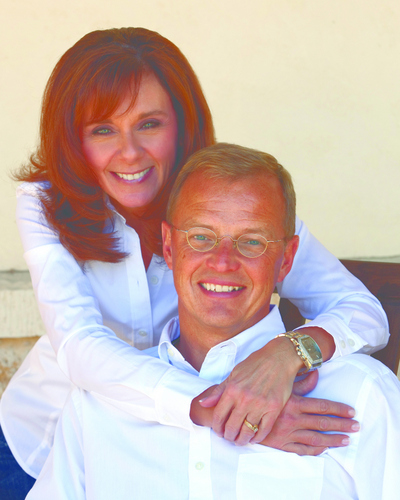 Rev. Randy and Rozanne Frazee
From Oak Hills Church in San Antonio, Texas
If you are invited to dinner—on Sunday or any other day of the week—at the Frazees,' you will see how one family of Christians lives their faith. "Rozanne and I are neighborhood folk. We love the idea of applying the Biblical passage 'love your neighbor as yourself;' we take that literally," Randy said. "We want opportunities to encounter our neighbors on a regular basis," Randy said.
In their San Antonio neighborhood, it's a casual but intentional experience. When the family lived in the Chicago area, Frazee started the experience at Willow Creek Community Church, where he was a teaching pastor. They called it "the Table," and in homes all over that area, people came together at the dinner table. Buffet dinners weren't allowed; you had to have the experience of a family-style meal in which everyone worked to pass platters and bowls of food while sharing conversation.
"At some point in the dinner experience you share the highs and lows of your day," Randy said. "I remember in our home in our neighborhood, we had about forty in our little bungalow. We moved our furniture, and the most we could get around our table was twenty-seven, then we moved into the Boy Scout building."
When the New York Times got wind of it, a reporter was interested in attending one of the meals and writing about it. "She thought she was the first one there because there were no cars outside our house," Randy recalled. "I said, 'No, everyone walked. They all live here.' She was amazed."
For all of the effort that Randy Frazee has put into small-group ministry, what happens at the dinner table with the Frazees' children has set the pace for all else. Grace is the ritual that opens each meal and something Randy Frazee believes has affected his family tremendously, on a spiritual basis. "We've enjoyed a home filled with the presence of Christ. I've been in a lot of homes, and I can sense whether Christ is present. The thing we feel is transforming is that we have, day in and day out, invited Christ to be present in our home. We are ultimately not only thanking God for the food, but are also inviting Jesus to come to the table. It makes it a gathering in his name."
-From Sunday Dinners: Food, Family, and Faith from Our Favorite Pastors by Diane Cowen/Andrews McMeel Publishing, LLC 2013
Strawberry Salad with Vinaigrette
Serves 8 to 10
Monterey Jack cheese, berries, and pecans stir the senses in this terrific salad. The garlic and paprika in the dressing make it a standout you'll want to have in your pantry all the time.
Salad
1 head romaine lettuce
1 head Bibb lettuce
½ cup shredded Monterey Jack cheese
2 cups strawberries, hulled and halved
½ cup pecans or walnuts
Vinaigrette
1 cup vegetable oil
¾ cup superfine sugar
¾ cup red wine vinegar
2 cloves garlic, minced
½ teaspoon salt
½ teaspoon paprika
¼ teaspoon ground white pepper
Make the salad: Tear the lettuce into pieces and place it in a large bowl. Sprinkle the top of the salad with the cheese. Arrange the strawberry halves on top of the salad and then sprinkle with nuts.
Make the vinaigrette: Whisk the oil, sugar, vinegar, garlic, salt, paprika, and pepper until the sugar is dissolved. (You can also place all the ingredients in a jar or container with a lid and shake until it's combined.) Drizzle the dressing over the salad and toss well.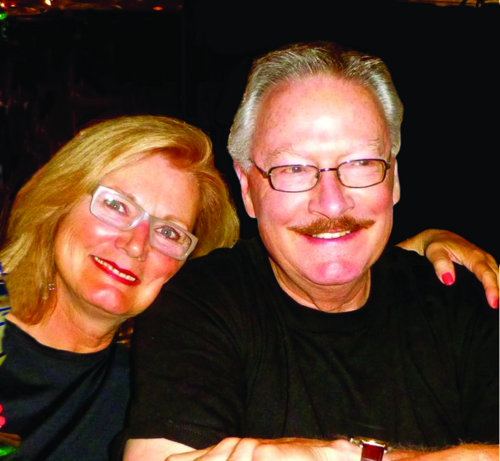 Rev. Dr. Jim and Barb Dixon
From Cherry Hills Community Church in Highlands Ranch, Colorado
When the Dixon boys were growing up, dinner was a family event. Their mother inquired about schoolwork and friends, and the type A brothers all had plenty to say. "We were three boys, so sometimes we'd talk about girls." Jim laughed. "There was always conversation at the table. It was generally a happy time and my brothers and I have great memories."
Jim said his mother was a wonderful cook, but the dishes he remembers most were her desserts: pies, cobblers, and cookies. "My mom was a Missouri farm girl who was a great cook. She made a gooseberry cobbler and boysenberry cobbler that were something else. The crust alone . . . I'm sure they were very high in calories, but, boy, what a treat."
Barb Dixon said she and her sisters-in-law initially tried their hand at Nina Dixon's recipes but gave up. They just couldn't replicate her crust for pies and cobblers. When Jim's mother made big meals, the daughters-in-law cleaned up afterward. "We never contributed to the cooking because she was so good at it," Barb said. "Her sons would rave about her food. They'd go on and on . . . and once in a while I'd think, 'Well what am I, chopped liver?' But her claim to fame was her cooking skills."
After more than forty years of marriage, the Dixons have cut back on the sweets they eat, so when Barb bakes or wants to experiment with a new recipe, she'll take the dish in for the office staff at the church. "They'll eat anything," she quipped.
When their daughter, Heather, and son, Drew, were born, the Dixons knew they wanted to continue many of the family dinner traditions they grew up with, but they wanted to do them their way. Sometimes she'd declare it was "every man for himself night" and they'd clean the fridge of leftovers.
"I tried to make things that they liked. I made sure they didn't have a whole lot of stuff they had to gag down," Barb said, remembering the peas her parents forced her to eat. "I tried to make it tasty and fun."
The book of Acts describes how people met in homes and broke bread together with great joy, Jim said. So that's what he and Barb set out to do: create a life at home that was fun, yet meaningful. Their meals were a time for good conversation, whether they were at home or in a restaurant. "I would have to say that in terms of our family life, those evening meals were the glue that, relationally, held us all together," Jim explained. "I felt God used that to keep us close as a family, not just close to each other but close to Him. Our walk with Christ is part of everything we do and everything we say. Our conversations always include discussions about the Lord."
-From Sunday Dinners: Food, Family, and Faith from Our Favorite Pastors by Diane Cowen/Andrews McMeel Publishing, LLC 2013
Spaghetti Pie
Serves 6
This kid-friendly casserole is easy to assemble, and a great make-ahead dish. Barb Dixon found this recipe in her Junior League of Denver Colorado Cache Cookbook.
½ pound angel hair pasta
2 large eggs, beaten
½ cup finely grated Parmesan cheese
2 tablespoons olive oil
1 onion, diced
1 cup sour cream
1 pound Italian sausage
1 jar (at least 16 ounces) spaghetti sauce
2 cups shredded Cheddar cheese
Preheat the oven to 375°F. Spray a 9-inch round, glass baking dish with nonstick cooking spray. Cook the pasta according to the package instructions. Mix the cooked pasta with the eggs and Parmesan until combined. Spread the pasta mixture over the bottom of the prepared pan.
Heat the oil in a medium-size pan over low heat. Add the onion and sauté until translucent. Mix the cooked onion into the sour cream and layer the mixture over the pasta.
Cook the sausage in a sauté pan until it's no longer pink, then stir in the spaghetti sauce. Pour the sausage mixture on top of the sour cream layer. Top with the Cheddar cheese.
Cover the pie with foil and bake for 30 minutes. Uncover and bake 15 minutes more to lightly brown the cheese. Allow to cool for a few minutes before serving.