Take a close listen to If We're Honest—the stunning, soulful and openhearted third album by Christian music superstar Francesca Battistelli, a GRAMMY® Award nominee and six time Dove Award winner—and you will hear that her latest song cycle is a deeply honest and powerful piece of work vividly reflecting the 28-year-old singer-songwriter's own journey.
"I definitely think the albums I've made have documented my journey from being a young woman to becoming a young mom," says Battistelli. "My Paper Heart, I had just graduated college and moved to Nashville. I was single and had no idea what was in store for me. I think you can hear my searching on that album. There are a lot of songs about trust and trying to figure out what God was going to do in my life. "Of course, Battistelli was headed towards a tremendous and uplifting success story with My Paper Heart, hitting #1 on the Christian charts in 2008, and breaking the Top 40 on the Billboard Top 200 pop charts too. "I'm Letting Go" would become Battistelli's first hit, while "Free To Be Me" earned her a GRAMMY® nomination for Best Gospel Performance.
By the time of her sophomore effort, 2011's Hundred More Years, Battistelli was already an established star in the Christian music world. As she recalls, "By then, I found myself on this very exciting crazy train. I had just gotten married and we were soon expecting our first child. Life was a little bit nuts then, and I think that's reflected on that record, which is a little bit more serious. You can hear me trying to make sense of it all on that album, or at least trying my best." Again, Hundred More Years would prove to be a considerable success, another #1 album on the Christian chart, and a Top Twenty success on the pop charts as well.
Now, with If We're Honest, Battistelli has created her most personal and accomplished musical statement yet. "This album is a really good reflection of where I am right now," she says. "My family and I moved back to Nashville in May, and I went right to work writing for this album. From my perspective, it felt like the pressure was off after that famously terrifying second album and all that was happening back then. This time around, I really just let go of all that self-imposed pressure. Somehow I felt as though I didn't have to prove as much, even to myself, and I think that allowed me to do my best work."
If We're Honest found Battistelli working once again with her longstanding producer and valued collaborator Ian Eskelin. "Ian has produced all my records. His work is constantly surprising me. We've grown a lot over the past six years, and he took this album over the top."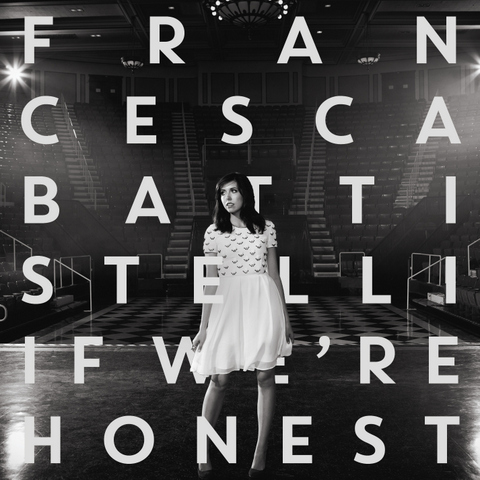 Working in Nashville with many of the same musicians who've graced her previous releases was significantly more relaxed this time. "Since we'd moved back to Nashville, there weren't as many constraints on my time. When we lived in Atlanta, I would have four or five days to be in
Nashville and write. It was like, be creative! And GO!" This time the process felt more like a regular job. For the first time as a mom I was able to leave home at 9 in the morning, get back at 4 in the afternoon, make dinner for the kids and tuck them in too. It was a much easier process for me, and I think that's reflected on the record. I've got a better handle on motherhood now, and there is just more energy and joy on this album, which was needed."
If We're Honest also displays a great rhythmic range than Battistelli's previous work, which she admits may reflect her life living with her husband, drummer Matthew Goodwin. "I did discuss expanding my horizons rhythmically a bit on this album, and a lot of that conversation started because I'm married to a drummer," she explains. "I listen more than ever before to drum patterns. I specifically wanted to stretch out with a lot of different players on this record."
Indeed, while proud to be a leading Christian recording artist, Battistelli is happy to see her musical message connect with all sorts of music lovers. "Some of the most inspiring moments come when someone comes up to you and says, `I wasn't a believer until I heard your music on a TV show or playing in a store, and it prompted me to look you up, to find your music, and eventually to find the Lord.' Sometimes they simply say, `Your music helped me find through a difficult time.' To me that's what it's all about."
For Battistelli, "Anytime you can get your music in places it might not normally be found, good things happen. Just recently, I debuted at the Grand Ole Opry. It was huge for me because I love the people who come to my concerts to see me and are excited to sing along. But it was also wonderful to be communicating with so many people who had no idea who I was. It was so gratifying that the music connected. I was a total "newbie" at the Opry, and it meant a lot to me to be well received. I think stretching is good for artists."
So is Battistelli okay with sinners listening to her music? The singer laughs, and then explains, "If sinners weren't listening to my music, there wouldn't be anyone listening to my music."
Courtesy of Montine Felso
Warner Music Group / Word Entertainment