By Dan Brownell
"Who knows whether you have come to the kingdom for such a time as this?" (Est. 4:14 NKJV).
As the world grows spiritually darker, sharing the gospel becomes more urgent than ever. Fortunately, the gospel is shining brightly around the world through The Chosen television show, the first multi-season series ever made about Jesus. The first season premiered in 2020. The show's second season has skyrocketed in popularity after its spectacularly successful first season and is being viewed at a rate at least 10 times higher than the first season.
The series has been viewed in every country in the world — even in Antarctica — and is being translated into 50 languages. As of June 1, 2021, episodes have been viewed more than 173 million times — with a goal of a billion views — through the free app thechosen.tv/app.
The show's incredible impact underscores that it was created "for such a time as this." Just as the Old Testament book of Esther recounts how God sovereignly placed Queen Esther in her position of influence at a specific time and place in history to intervene on behalf of the Jewish people, so God has raised up The Chosen for our generation to point to Jesus as Savior and the hope of mankind at a time of great crisis.
The show is deeply touching lives. "I have cried watching every episode," said Cindy Woods of Oakesdale, Washington. "No matter how many times I rewatch each one, the tears flow. Even now I still don't understand why that is, other than that the Holy Spirit is working through this series."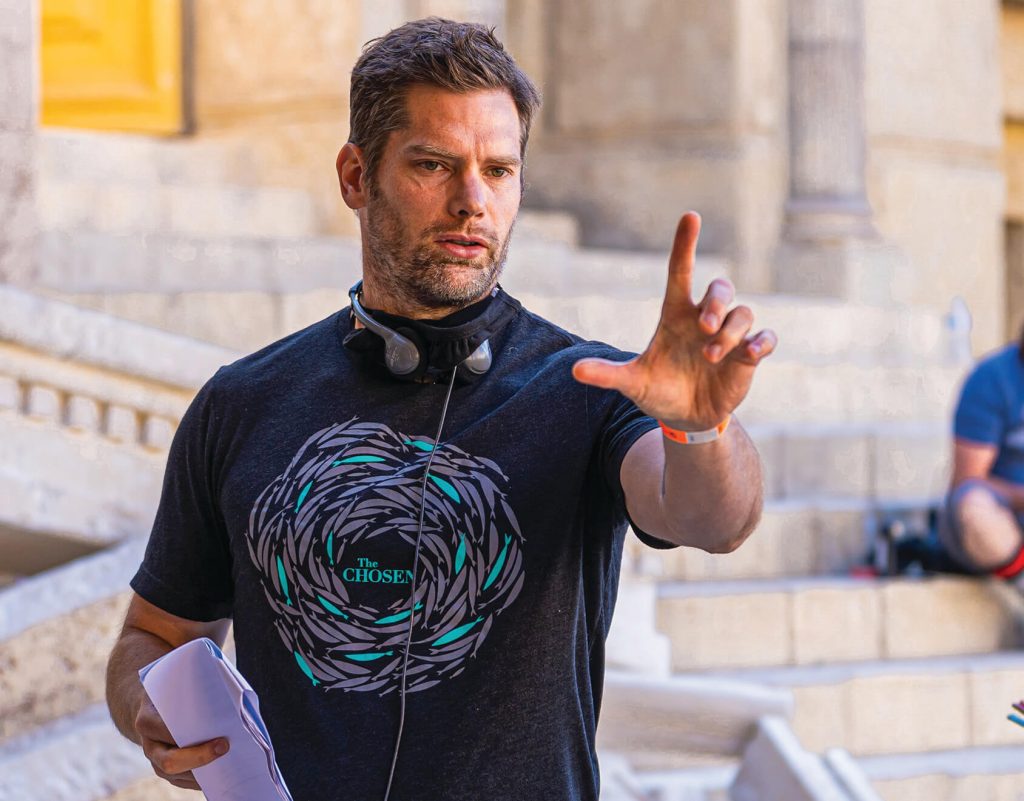 Seeing Jesus Through His Disciples
From the beginning, Director Dallas Jenkins' goal has been to help viewers see Jesus through the eyes of His followers. When viewers witness how Jesus changes the lives of His flawed disciples, they're able to understand how Jesus can change their lives as well. "Watching The Chosen transported me back to the 1st century and let me see Jesus as if I were one of his followers … What I knew in my head took root in my heart," said Valerie Hansen Whisenand of Glencoe, Arkansas. "My prayer had been to draw closer to Jesus and serve him better. The Chosen was a direct answer to this prayer."
The theme of the series is captured in the show's opening credits. In the minute-long opening, a school of dark-colored fish swim in one direction. One by one, individual fish reverse direction and turn a bright aqua color to represent their transformed life and new direction following Jesus.
The title of The Chosen is inspired by John 15:16: "You did not choose me, but I chose you and appointed you so that you might go and bear fruit — fruit that will last…." (John 15:16 NIV). The show highlights Jesus' heart in pursuing and transforming the lost. For instance, in the first episode of Season 1, He casts demons out of Mary Magdalene, freeing her from years of torment. With her life profoundly changed, she says of Him, "I am His. I am redeemed… I was one way and now I am completely different and the thing that happened in between was Him."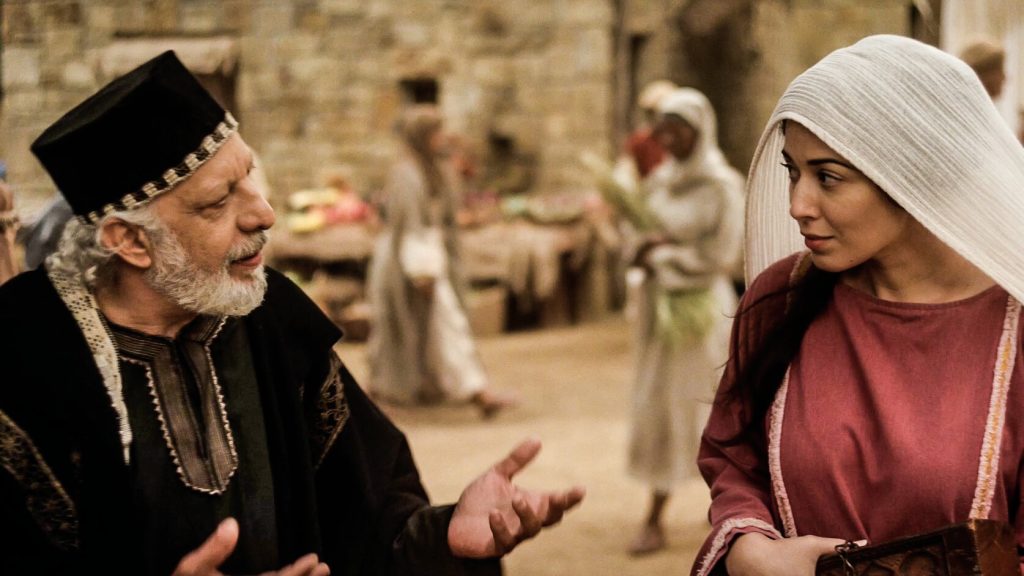 Confronting Viewers With the Gospel
The mission of The Chosen is to make Jesus — and the gospel — known. The most famous verse in the Bible — John 3:16 — comes to life in Season 1, Episode 7, where Jesus and Nicodemus meet at night to discuss the meaning of the "new birth." The conversation lasts for a full 10 minutes, with Jesus explaining the gospel in detail. Nicodemus leaves convinced that Jesus truly is sent from God but agonizes over the decision of whether to follow Jesus, as he realizes what it will cost him. Viewers are left considering that they also need to make a choice.
But it's not just those who are unfamiliar with Jesus and the gospel who are having lifechanging experiences; longtime Christians are, too. Ann De Aragon of Orange, California, said, "Listening to sermons almost every Sunday for the past 55 years (I started attending "grown up" church at age 11) has not done as much for my understanding of Christ's humanity as watching Episode 3 of Season 1 of The Chosen. To see Jesus struggle to light a fire, instead of doing it the 'easy' way. Seeing him bandage a wound he received. Seeing him bake his own bread and prepare food. He made things from wood to support himself. All the glories of Heaven were his, and he gave it all up, to come here and die for me!"
Even pastors with in-depth theological training are discovering fresh insights about the Lord. "I've been a pastor for 35 years, I've been a believer for a very, very long time," said Brad Powell, senior pastor, NorthRidge Church in Detroit, Michigan. "I sat there and woke up to Jesus in brand new ways as I watched this thing. I saw His love in ways I've never seen it through a media project before, and I experienced the truth and how that would be impacted because I was seeing unique interactions and how Jesus was involving people."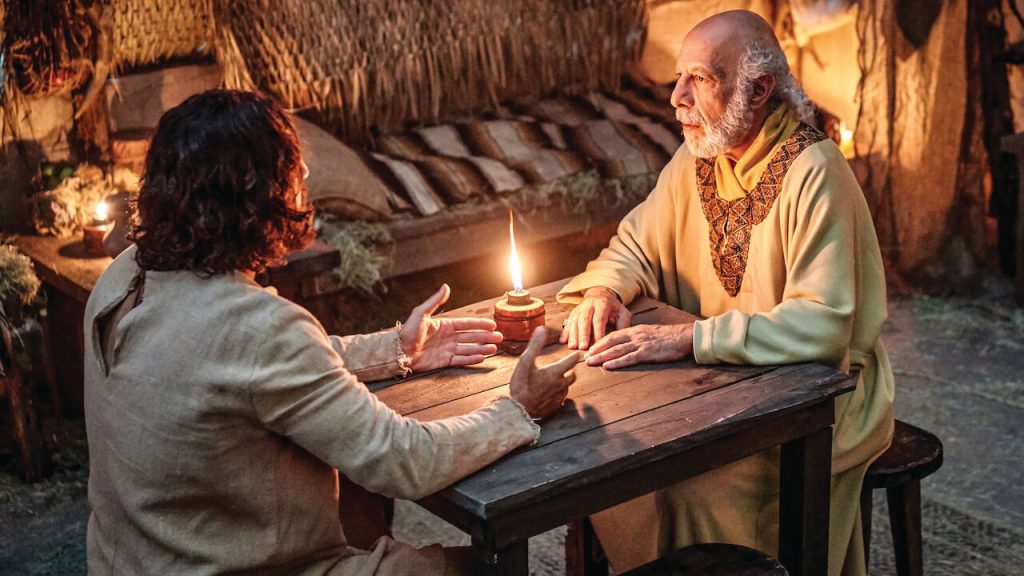 An Authentic Portrayal
Viewers are astonished and delighted when they see Jesus for who He really is. They're finally seeing an accurate depiction of Him as the people-loving, lifechanging Savior we see in the gospels rather than the shallow caricature of Him so often portrayed in the media.
Previous movies and TV shows about Jesus have generally focused only on Jesus' divinity, which makes Him seem distant and unrelatable. The Chosen is unique because it portrays both His divinity and His humanity through an engaging fictional, but biblically compatible and plausible backstory.
The interactions between Jesus and other characters are thought-provoking, challenging viewers to rethink their assumptions. For example, The Chosen portrays Jesus with a sense of humor. He laughs with Peter about Andrew's clumsy dancing at the wedding at Cana, joking that Andrew has four left feet. Although the Bible doesn't explicitly show Jesus' humor, and it typically isn't shown in other media depictions of Him, this aspect of Jesus' nature resonates because human personality comes from God's nature, as we're created in His image. Humor is part of the human experience and is often expressed in loving fellowship. Because Jesus shared fully in our humanity (except for sin), it seems that He must have laughed on occasion. Scripture says that He loved children, and it seems reasonable that He laughed as He played with them.
The disciples, too, are portrayed realistically. They're true to Scripture — plagued by sin and broken relationships, battling pride and other human weaknesses, unlike the way they've typically been portrayed though history as nearly perfect, halo-wearing, larger-than-life saints. For example, in Season 1, Episode 1, before Peter and Andrew meet Jesus, they're unable to pay the Romans the taxes they owe, putting them at risk of losing their fishing boat and livelihood. To settle their debt, Peter makes a deal with Roman governor Quintus to spy on fellow Jewish fishermen who have been covertly fishing on the Sabbath to avoid paying the Romans taxes on their secret catches. Meanwhile, Quintus has recruited Matthew the tax collector to tail Peter to make sure he carries out his traitorous deed. The conflicts and conniving among these future disciples reveal their foibles, which helps viewers connect with them and be drawn into the story of redemption.
While the scriptwriters add a backstory to the biblical framework to create richer character development, they take great care to ensure it stays consistent with Scripture. They rely on in-depth historical research and a team of Bible experts to ensure authenticity. The dialogue and interaction between characters is true to life, which helps translate the abstract concept of faith to a tangible, concrete faith in the person of Jesus. "I was hooked from the first episode," said Jennifer Ross of Weatherford, Texas, where the first season was filmed. "It was like the Bible was suddenly in color. Verses I'd read millions of times became more real. I laughed. I cried.… And I can't wait for more!"
Creating a Hunger for Scripture
The scenes are so powerful they create a hunger not only to read the Bible but to delve into it much deeper. They inspire viewers to go back to the Word and reread it with new insight gleaned from the show. "The Bible is now alive," said Valerie Ferrara-Ryan of Allentown, New Jersey. "I now 'see' the Bible. I am learning more and more — everything is opening up to me now." Cristina Luttrell of Sevierville, Tennessee, had the same reaction: "Now I sit and read my Bible and the written Word just comes to life in a totally new way," she said. And Brenda Alapa of Las Vegas, Nevada, responded similarly: "I found myself rereading the Bible for every scene," she said.
Countering Distorted and Blasphemous Caricatures
Jesus' authentic portrayal counters and corrects His misrepresentation by pop culture and by corruption in the church, especially in recent years with the spike in scandals. The Jesus shown in The Chosen helps defuse the hatred directed toward Him by a hostile culture that opposes Him simply because He is God. The genuine Jesus is easy to love and respect, which makes it hard to justify hatred of Him. His winsome personality explains why the common people of the 1st century were drawn to Him.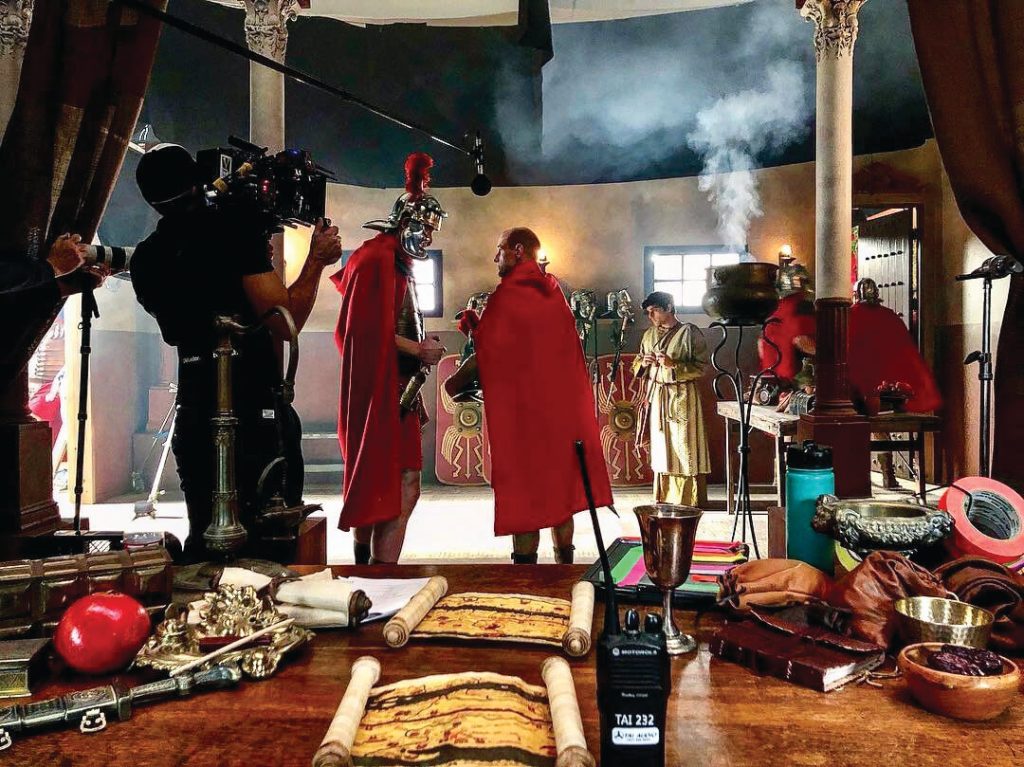 Breaking Down Walls of Hostility
The Chosen shows Jesus bridging the cultural divides of His era, which were even deeper back then than they are now. Even the polarization of political parties today pales in comparison to the hostility between groups in Jesus' time: Romans versus Jews, Jews versus Samaritans and Gentiles, Pharisees versus Sadducees, and so on. But through the gospel, Jesus built bridges between groups separated by seemingly insurmountable barriers.
The show highlights many of the amazing accounts of reconciliation in Scripture. For example, in Season 1, Episode 6, Jesus heals a leper, who belongs to a group universally shunned by society. Season 1, Episode 8 features the scene of the woman at the well, a Samaritan rejected by the Jews and an outcast even among her own people because of her lifestyle. She's resistant to Jesus because of the centuries-old hostility between Jews and Samaritans. Jesus gently explains to her, "I'm here to break those barriers" and offers her forgiveness. She gratefully accepts. Freed from her sin and the walls it has built, she eagerly shares the good news of salvation with others in her village.
The Chosen mirrors this reconciliation, as it brings viewers of dramatically different backgrounds to their knees to worship Him together, illustrating the power of the gospel to create a countercultural unity. "For he himself is our peace, who has made us both one and has broken down in his flesh the dividing wall of hostility" (Eph. 2:14 NIV).
The show has no political or denominational agenda, so it lowers walls and helps open minds to consider Jesus' claims — even for atheists — as Jen Schroder of Prescott, Arizona, personally experienced. "I know an atheist who binge-watched the whole first season once he saw the first episode and says the series is amazing," she remarked. "He hasn't professed Christ to us yet, but we know a huge cartful of seeds have been planted, seeds he never would allow in the past, and we are grateful and praying."
The conflicts of the 1st century are reflected in those we see today in politics and social media. In Season 2, Episode 1, for example, James and John want to call down fire from heaven on the Samaritans because of their insults. Jesus, however, rebukes the two brothers and uses the situation to model the better way, which is changing hearts rather than getting revenge.
God's Hand of Blessing
The show's very existence reveals God's hand at work behind the scenes. The fundraising for the show has been completely a grassroots effort and is part of what the producers have called "impossible math." It began with a crowdfunding program and became the highest crowdfunded media project in history. To supplement the initial funding, the show created a subscription-based model, but when COVID-19 hit in spring 2020, causing global lockdowns, the producers decided to make the show free for a few weeks, even if it meant losing money for a while. During this time, they switched to a "pay-it-forward" model that provided free access, but viewers could voluntarily donate to the show. Immediately after implementing the pay-it-forward model, contributions quadrupled. With that, the producers recognized God's favor on the new model, and they decided to make it permanent.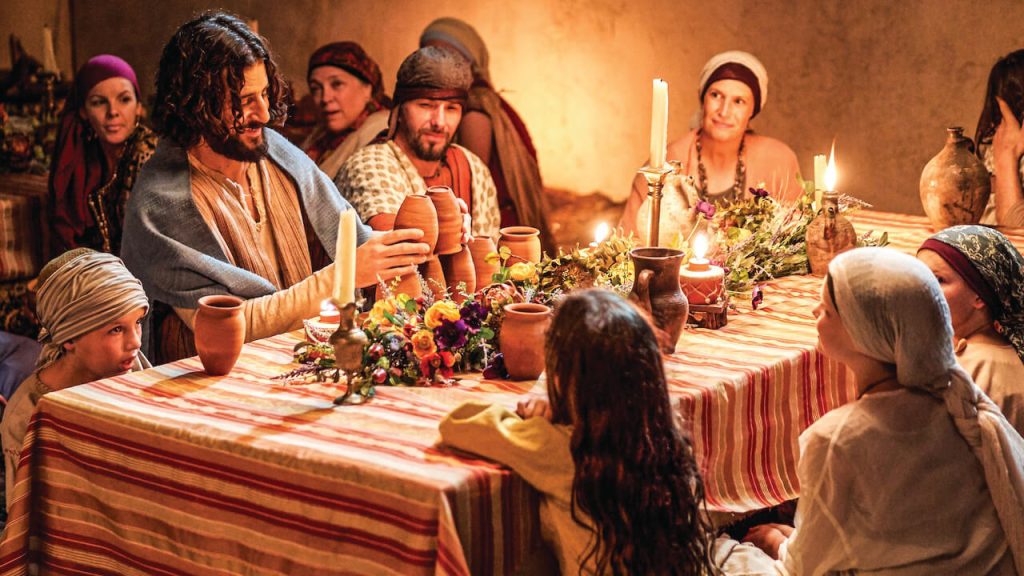 Raving Fans
The Chosen fans love to introduce others to the show. New viewers often report how someone told them about the show but were skeptical — until they saw it and became raving fans themselves. One way they share their passion for Jesus and the show is by sharing DVDs. Debbi Grenz of Albany, Oregon, said, "I took a DVD into our dentist's office and asked them to share. When I went back, the receptionist jumped out of her chair and said, 'I binge-watched the whole thing and ordered the DVD for myself. I'm also getting a hoodie and I want to get more DVDs to share!!'"
Fans also promote the show by wearing T-shirts, hats, and other clothing emblazoned with quotes or sayings from the series. They include "Binge Jesus," "Against the Current," "Come and See," and "Get Used to Different." Those quotes open doors to questions and conversations. "I wear Chosen merchandise as often as I can… It's a non-threatening conversation starter with a stranger that I normally wouldn't have spoken to," said Brenda Alapa of Las Vegas, Nevada.
People who might otherwise be closed to spiritual discussions are surprisingly open to the show. "I can't get out of the grocery store and most outings without sharing The Chosen," said Lisa McMeans of Montgomery, Texas. "The clothing and hats open an opportunity to share the unprecedented app plus the trailer. After that, people are excited and will usually download the app on the spot."
Sky-High Ratings From Industry-Leading Review Sites
As of May 17, 2021, The Chosen had earned a rating of 9.7 out of 10 on IMBD.com, based on 15,986 reviews. On rottentomatoes.com, it's garnered a 100% rating from eight critics and a 99% audience score based on 7,457 reviews from the public. Ratings this high are almost unheard of and are especially significant, considering that both review sites are secular.
The Future of The Chosen
We can only imagine the incredible impact the remaining seasons of The Chosen will make for eternity. With its incredible potential to point viewers to the Prince of Peace, it's truly a work of God — for such a time as this.
How to Watch The Chosen
Watch The Chosen via The Chosen app: thechosen.tv/app
Watch The Chosen online:
watch.angelstudios.com/thechosen/watch
Need tech tips to learn how to view the show?
Visit bit.ly/HowtoWatchTheChosen
The Chosen Resources
Visit The Chosen homepage:
studios.vidangel.com/the-chosen
Follow on Facebook: @InsideTheChosen
Follow on Twitter: twitter.com/thechosentv
Follow on Instagram: instagram.com/thechosentvseries
Shop for merchandise: thechosengifts.com
Watch YouTube Videos:
youtube.com/c/TheChosenSeries/videos