By Becky Johnson and Rachel Randolph
When Food Goes Missing
This is a common problem with forgetful cooks. You have a bowl of apples, perhaps, right there in front of you, ready to be peeled. But the next thing you know, you turn your back for a moment or get a little caught up in a story on TV, then you look back on the counter and the apples are simply . . . gone. I have learned from years of experience that these mysterious food items are most likely to show up in one of the following places: the oven, the dishwasher, or the pantry. It never hurts to check the washing machine. Or your purse.
The biggest food item that I ever misplaced was an industrial- size plastic pan of raw marinating pork chops. The kids were young, our budget small, so I'd taken a job as a parttime food caterer. The lakeside clubhouse where I worked was just a block from our home, so in many ways it was a great gig. I was always going in a dozen directions, however, and my poor memory would take quite a hit. One night I prepared a dinner for about twenty people. But about two hours before serving time, after checking all the usual suspicious places, the pork chops seemed to have mysteriously evaporated. I finally convinced myself that I probably just dreamed them up, that they may have never actually existed.
Using a backup plan (absentminded cooks — especially if you are a caterer — must always have a backup plan), I quickly seared a couple of huge beef tenderloins instead. While the tenderloins were finishing up in the oven, one of the guests popped her head into the kitchen saying, "Becky, we were all admiring your . . . uh, interesting centerpiece in front of the fireplace." I followed her to the gathering room of the clubhouse, and there on the coffee table, surrounded by flowers and candles, backlit by the glow of the hearth, was the enormous plastic gray pan, filled with twenty raw pork chops floating in brown marinade. Thankfully, this group of twenty knew me well and spent the rest of the evening chuckling about the incident.
Rose Dodson was my personal assistant for several years when my writing and speaking career was at full throttle. She looked like her name, a golden haired beauty who seemed to appear from another place and time. But Rose was no delicate flower in the brain compartment. She is and was as sharp as Sherlock. My parents once stopped by my home to join us for lunch, and we'd just spent a good twenty minutes searching the house for a missing loaf of bread I'd just purchased, with the plan to make sandwiches. Rose walked into the kitchen, and my parents asked, "Rose, if you were Becky, where would you have placed a loaf of bread?" Without hesitation, Rose walked to the microwave, opened it, and handed them a loaf of Wonder. To this day they speak of Rose with something akin to pure awe, as they should.
I wish I could say that all those crazy, absentminded adventures are a part of my history, but ADD is a gift that keeps on giving. (How will my children ever know if I've got age-related memory loss or am just being myself? I have no clue. I could slip into senility and it would go completely undetected for years.) I drove through a Taco Bell this morning, famished after a workout (which may be why I'm not losing weight at warp speed). I placed my order, but the voice on the intercom sounded confused. So I repeated it, carefully: "A taco and a small Coke, please." Still she sounded flummoxed, and that's when I looked at the menu sign and realized I was at a Starbucks drive-through. I shared this on Facebook and received the most wonderful comments, like "Did you change your order to a Taco Frappucino?" and "You crack me up. "But the best was from a friend who is struggling to beat perfectionism; she said, "Oh, Becky, you make my life worth living."
It has long been my motto that if you cannot get your act together (and I've given it a good fifty-year try), then the least you can do is try to make your act entertaining. Sometimes our unique gift to the world is to help other people feel better about themselves simply because we exist, continually scraping off the burnt edges of life and serving it up with sides of apologies, love, and laughter.
An aside to moms of all ages: Even Iron Chefs have bad days in the kitchen. And being a mom is a little like being an Iron Chef — with a million things to do in a ridiculously short amount of time — only you have to do it without a full night's sleep or hired help.
There are no perfect cooks and no perfect mothers. You will try. You will try so very hard. Still you will fail and fall and sometimes flail. You will feel guilty about all this. When I read about Rachel's younger self longing for order and neatness, for a mother who valued routines and was fully awake and aware in the morning, I ache with the yearning to go back in time and do it all better. If only I cooked beautiful breakfasts and kept a better house, I think, perhaps my children would never have suffered, never have any of their own personality quirks, never made their own share of mistakes. If I had been more perfect, perhaps they would also be perfect and have only perfect things happen to them.
But let me share something my mother, Ruthie, shared with me. Perhaps it will comfort you as it has comforted me through the years. "No matter how well you do your job as a parent, even if you should do it almost perfectly, you'll still raise little human beings with selfish streaks, temper tantrums, and the remarkable ability to lie to you with the face of an angel. And even if you could be a perfect parent, your child will still have to grow up in an imperfect world and live through their own share of disappointments and heartaches. Ultimately, you need God's grace and they'll need God's grace, and that's just the way it is."
So try not to sweat your imperfections. We are just fallible human beings doing our best to raise other fallible human beings. Do your best with the big stuff, and trust that loads of love and laughter and grace will cover the rest.
On your deathbed your adult kids won't remember how you loaded the dishwasher (okay, maybe mine will as it is a memorable sort of thing); they'll remember that you thought they were remarkable, lovable, and capable — a blessing to you and others. If you do your job as well as you can, you will arrive at old age knowing you and your children both had your share of flaws and mistakes, but you'll focus on what matters most — how, over the scraping sound of burnt toast being whittled, you loved each other to the moon and back.
Sweet and Spicy Oven "Blackened" Tilapia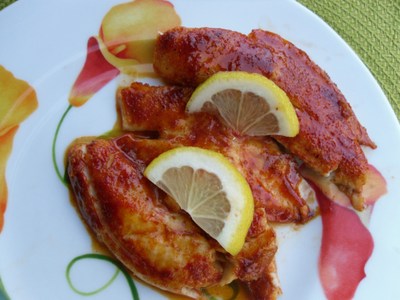 Imagine my delight when "blackened food" became popular among food lovers. Of course, "blackening" doesn't really mean "burnt"; it comes from the heating of spices onto a piece of meat until a flavorful crust is formed. This sweet-smoky, spicy blackened tilapia is not only full of flavor, but it cooks in no time at all. I make it at least once a month. Rachel loves making a vegan version, using Earth Balance instead of butter and tofu slices instead of fish. — Becky
Serves 2.
2 tablespoons olive oil
2 tablespoons butter
4 medium to large tilapia fillets
2 tablespoons smoked paprika
2 tablespoons cumin
3 tablespoons brown sugar
salt and pepper
1 lemon, cut in half
Pre-heat oven to 350˚. Put oil and butter in rectangle pan (large enough to hold tilapia without overlapping) and put in oven until butter has melted. Tilt pan until it is evenly coated. In small bowl, mix paprika, cumin, and brown sugar. Lightly salt and pepper both sides of 4 fillets. Lay tilapia fillets side by side in the buttery pan. Turn over so both sides are coated with oil/butter. Generously sprinkle tops of tilapia with the brown sugar-spice mix (using all of it), patting it in gently. Squeeze one half lemon over all. Put in oven for 15 minutes or until fish flakes easily. Then turn oven to broil and, watching carefully, broil the tops of the fish until the spice mixture starts to caramelize. Remove and serve with the remaining lemon half; cut in pretty slices as garnish.
• Vegetarian (sub a block of tofu gently pressed to remove excess water and sliced into four "fillets")
• Vegan (sub vegan margarine such as Earth Balance)
• Gluten free
Tomato Basil Stackers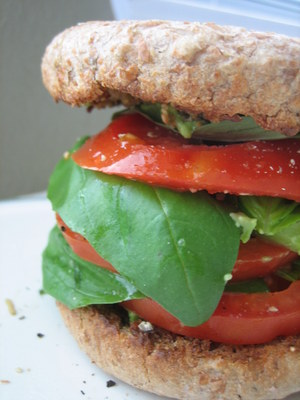 This is one of my favorite summer snacks when basil is growing like a weed and tomatoes are vibrant red, sweet, and juicy. During that short season, I've been known to eat it every day for weeks. The combination of avocado, garlic, and basil is like an Italian flavor explosion in your mouth. Also, the presentation is lovely and cheery and simply makes me happy. It would be perfect for a summer brunch or done in smaller open-faced stacks as an Italian dinner appetizer, a vertical tomato bruschetta of sorts. — Rachel
Serves 1.
1 whole-grain English muffin, split in half (I especially like the Ezekiel 4:9 brand)
1 garlic clove, minced
1 tablespoon olive oil
3 slices of vine-ripened tomato
6 fresh basil leaves, gently torn
½ avocado, pitted and sliced
salt
fresh cracked pepper
drizzle of high-quality olive oil
• Vegan/vegetarian
• Gluten free (use gluten-free bread)
Turn your oven on low broil. In a small bowl, mix olive oil with minced garlic. Spread garlic and oil on the inner side of the English muffin slices. Place directly on the top rack of your oven and broil until it's light brown and crispy (about 1 minute). Slightly smash the avocado onto the toasted English muffin halves. Then on one of the halves, layer two basil leaves and a tomato slice three times, sprinkling with salt, fresh cracked pepper, and a small drizzle of high-quality olive oil after each tomato slice. Top with the other half of the English muffin.
Excerpt from We Laugh, We Cry, We Cook by Becky Johnson and Rachel Randolph, Copyright 2013. Used by permission of Zondervan.
We Laugh, We Cry, We Cook is available from Zondervan at http://zondervan.com/9780310330837