My Boy Ben: A Story of Love, Loss and Grace is the true and touching story about David Wheaton's close companionship with an unforgettable yellow Lab named Ben. In the following excerpt, after Ben's death, David learns that God offers hope and grace in even the most trying times, causing all things to work together for good.  
For My Good and His Glory
By David Wheaton
Ten months before, I could have told you that the point of life is not simply to get through unscathed but rather to get right with your Creator and become the person He wants you to be. What I had come to understand is that trials are God's favored means toward this end. Years ago, it had been trials (of the self-inflicted variety) that led me to repentance and faith in Christ to become right with God. And now the crucible of losing Ben had provided the fertile soil for the growth God desired in my life.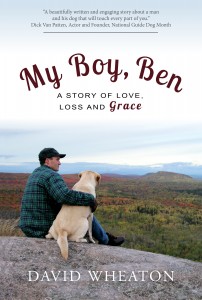 I was reminded again of my go-to passage: "May the God of all grace, who called us to His eternal glory by Christ Jesus, after you have suffered a while, perfect, establish, strengthen, and settle you. To Him be the glory and the dominion forever and ever. Amen" (1 Peter 5:10–11 NKJV).
I indeed had suffered for a while. The "God of all grace" had been perfecting, establishing, strengthening, and settling me. Growth had come after grief as a result of grace.
But I really hadn't crossed the line on the last sentence in the passage. It's as if it were hanging there waiting for me to face it. Could I honestly say, even after all I had gone through in losing my beloved Ben, "To Him be the glory and dominion forever and ever. Amen"? Could I thank God for allowing this trial and praise Him for what He had done through it?
Could I "exult in [my] tribulations, knowing that tribulation brings about perseverance; and perseverance, proven character; and proven character, hope" (Romans 5:3–4) as the Apostle Paul urged his fellow believers?
Could I "consider it all joy . . . when you encounter various trials, knowing that the testing of your faith produces endurance. And let endurance have its perfect result, so that you may be perfect and complete, lacking in nothing" (James 1:2-4)?
Of course this kind of response to trials flies in the face of our human reasoning. We deem it self-flagellating to "exult in our tribulations." We think it unrealistic to consider our trials "all joy." We question why God would allow such a situation in the first place by asking, "If God is good, why is there so much pain and suffering in my life and in the world?"
We think the wrong way and ask the wrong questions because the trauma of our trials takes us to a low point where it's hard to see God's higher purpose.
But God does have His higher purposes. He declares, "As the heavens are higher than the earth, so are My ways higher than your ways and My thoughts than your thoughts" (Isaiah 55:9).
Many times I had read about the apostle Paul living with a perpetual trial, an unspecified "thorn in the flesh" that he repeatedly asked God to remove. Paul wanted out of this trial, as I wanted out of my trial with Ben. But God told Paul, "My grace is sufficient for you, for [My] power is perfected in [your] weakness" (2 Corinthians 12:9).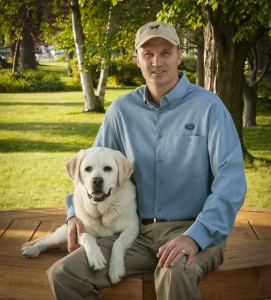 Paul apparently got the point that God's grace was sufficient by responding, "Most gladly, therefore, I will rather boast about my weaknesses, so that the power of Christ may dwell in me. Therefore I am well content with weaknesses, with insults, with distresses, with persecutions, with difficulties, for Christ's sake; for when I am weak, then I am strong" (2 Corinthians 12:9–10).
I knew this was the final step of faith God wanted me to take—to be content with my distresses and my difficulties; to be thankful for this trial and to praise Him for it.
I thought back to how God had been present and active during the time I was losing Ben and afterward. Through my loss, through my grief, through my weakness, when everything appeared bleak, God's grace truly had been sufficient. In fact, it had been more than sufficient—it had been amazing.
He gave me passages in His Word to comfort and strengthen me. He gave me a loving family and friends to support me. Above all, He gave me the faith to believe in His Son, Jesus Christ, whose perfect life, atoning death, and victorious resurrection offer hope for the future—a future where sin and death won't corrupt everything.
God also gave me hope for the present and the future, that He would take my trial with Ben and turn it into something good. All I had to do was consider the last ten months to see that this is exactly what God had done. He had used my tribulation to push me toward perseverance and proven character. He had used my suffering to "perfect, establish, strengthen, and settle me." He had increased my empathy toward others going through terminal illness and toward those who had lost their own dog. He had even given me little Gracie.
But the greatest good of all was that God had drawn me closer to Him. I knew Him better now. I trusted and loved Him more. I had a much deeper and greater appreciation for why He had sent His Son into our world.
I know for certain now that none of this good would have happened, at least to the degree it did, had I not gone through this trial, this test. Losing Ben in the prime of his life was one of very few scenarios that could have brought me so low and yet drawn me so close to God. God had seen to it that a whole lot of positives had come out of one big negative. Through great loss, God had given me great gain.
It is a hard truth to believe that God causes all things—even the hard things—to work together for good to those who belong to Him. But that is exactly what He did for me.
Driving down that country road, I had come to realize that this story is about more than Ben and me—it is about God placing a beloved dog in my life to lead me to and satisfy my deepest need for His gospel, His grace.
It was then that I could finally say, "To Him be the glory and the dominion forever and ever. Amen."
From My Boy, Ben: A Story of Love, Loss and Grace by David Wheaton © 2014. Used by permission of Tristan Publishing. www.tristanpublishing.com.
David Wheaton is a professional tennis player who was ranked as high as #12 in the world.  David now lives near where he grew up in Minnesota with his wife, their son, and two Labrador retrievers. David also writes for the Minneapolis Star Tribune and hosts a nationally syndicated radio program. To learn more about David, visit www.davidwheaton.com.