By Ken Walker
When Lornie Cayton stood up at Garfield Baptist (now Spring Creek) Church in Milwaukee in 1957 and asked a Sunday school class if they would consider doing something for children with intellectual disabilities, he had no idea how God would multiply that simple request.
Sometimes it takes 60 years for a vision to fully unfold. Today, the outcome is apparent: more than 100 disabled individuals are living at Shepherds Ministries, located 30 miles south of Milwaukee in Union Grove, Wisconsin.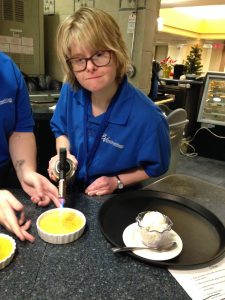 The numbers include 61 students enrolled in Shepherds College, a three-year, accredited, post-secondary program established in 2008. About a third of students are on the autism spectrum. Others have Down syndrome, suffer from fetal alcohol syndrome, or have other mental challenges or developmental disabilities.
In addition, Shepherds Enterprises employs 60 residents and Catalyst independent living clients. Located in a 15,000-square-foot production facility and warehouse just off I-94, the business handles light assembly, bulk mailing, and other services.
Melissa Holm, a graduate of Shepherds College, is a waitress at a senior retirement facility in Lancaster, Pennsylvania.
"The latter involves placing products in clamshell containers and sealing them for various companies. They include Andus Corp., the largest maker of home barber kits in the Racine area.I have a heart of compassion for people," said Bill Amstuz, president of the ministry since 1998. "I'm overwhelmed with the fact that, in a special way, people with disabilities are an unreached people group.
"That's what fulfills me — that we can do some things here as we add to the college, but also as we reach out to this population. An estimated 2 to 3 percent of the world's population have some form of intellectual disability. That's a huge unreached people group."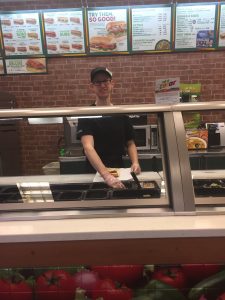 The significant size of this group, and Shepherd Ministries' desire to reach beyond its immediate clientele, also prompted the formation of Shepherds Resources.
Though about two years old, the website is still under development. It contains a series of teaching resources, information for those with questions about disabilities, and discussions of real-life solutions to issues facing the disability community. The home page includes a greeting from well-known disabilities advocate and author Joni Eareckson Tada.
"We can't just be a ministry of addition," Bill said. "That's how we're going to multiply, through the website."
Shepherds College graduate Christian Ladd works at a Subway restaurant in Racine, Wisconsin.
Changing Times
Part of this approach is rooted in reality; without adapting to a changing world, the light of Shepherds Ministry would eventually have fizzled out. The oldest person in on-campus residential care has turned 70, while the youngest (age 34) recently died of heart failure.
While tracing its origins back to 1957, Shepherds Home and School didn't open its doors to its first 36 residents until 1964. The founding father, Dr. Andrew Wood, was a special education teacher from Hackensack, New Jersey.
Wood and his wife, Betty, moved to Wisconsin with nothing but a concept for the ministry — to become a missions agency that would reach disabled boys and girls (and their parents) for Christ. It has fulfilled that mission by providing residential care and education for people from 32 states and three foreign countries.
Yet, since it began, Shepherds has had to adjust to societal circumstances. When the home first opened its doors, little was being done in public education to address special needs students. That meant it provided an essential service to those students and their families. However, when the tide toward mainstreaming those with disabilities started to turn in the early 1970s, Wood and the board decided to shift their focus to adults.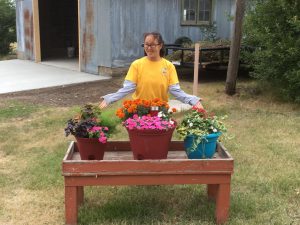 "Dr. Wood had a philosophy to never do anything for residents or clients that they can learn to do for themselves," Bill said of those early days. "But when I came, I realized we were stuck in the 1960s; we weren't doing anything in the community. We needed to start anew and afresh."
Olya Porth, an alumni of Shepherds College, has opened her own business, Gardens By Olya, in Stanley, North Dakota.
That meant incorporating Bill's philosophy, known as "Appropriate Independence." The appropriate part refers to the lack of a moral compass inherent in traditional education, a problem Shepherds set out to address. The resulting theme: "Graduated Responsibility with Full Accountability, Consistent with the Word of God."
Bill designed five non-negotiables to guide Shepherd's outreach:
-The Bible is central for faith and practice
-Christ is preeminent
-All staff and board members must be born-again believers
-The ministry will be evangelistic in emphasis
-Shepherds Ministries will be oriented to the local church
"We are a personal care organization, but we are not going to be Lone Rangers," Bill said of cooperating with the 2,400 local churches that supply 10 percent of its $3.2 million annual funding (which includes the costs of providing long-term care). "We are trying to do things that the local church can't do, like the college."
Back to School
A decade after Bill's arrival, the ministry took its next major step, founding the college. Over the past nine years it has graduated 74 students, with 19 more slated to walk the aisle on June 10.
Because many of its original clients are growing older, and others are moving off campus into group homes or independent lifestyles, the residential aspect of Shepherd's program has been diminishing.
The president said reducing the number of residents on campus and filling those spaces with college students is an exciting aspect of this transition.
"In the future, I see us as having no residential care, just college students and residential care being provided in the community," Bill said. "The college is our bright light and our future."
The school sees its leading responsibility as preparing students to live a rewarding, fulfilling life. Its driving philosophy originates with the idea that people are created for a purpose, and — while individuals — designed for community. The school seeks to train students for real life and empower them to serve Christ on their jobs and in their communities.
For Tracy Terrill, executive director since the beginning, the school is a chance to return to its educational roots. In its first nine years, graduates majored in horticulture or culinary arts, leading to jobs on organic farms or in landscaping, greenhouses, and restaurants. During the latest school year, it added a technology major.
While the Bible is an essential element of the curriculum, students do not have to come from a Christian background. About a third don't know Christ as Savior when they enroll, meaning the classroom becomes a setting for evangelism as well as spiritual growth.
Tracy said the college's strength is the holistic nature of its program. That means covering every facet of life, from spiritual growth to helping students develop life skills and function in social settings. The capstone is leaving with employment skills and the ability to live independently.
"For me, the most satisfaction comes when I see students start to realize they don't have to be defined by their disability," Tracy said. "We work hard to help them understand God has given them unique gifts, abilities, strengths, and talents. We work to nurture them and help them identify how God wants to use them."
Happy Endings
Happy endings are part of the college's story: two years ago, a couple who met at the college were married, while another couple recently announced their engagement. Then there are those who are playing a vital part in local churches by working in children's programming, small group settings, or other roles.
But for Tracy, the "payoff" comes on the recruiting trail, when he and other recruiting staff share the Shepherds College story with parents who had no idea such an outreach existed. Tears well up in their eyes as they contemplate their children having such an opportunity.
"They are committed to helping their children gain independence and be able to live independently," Tracy said. "Our students are driven by a desire to be like their siblings and those around them. As they pursue occupational training and live away from home, they establish an identity and form long-lasting relationships. It's a privilege to see all that come into play."
God's opinion of this population is very high, Bill said of those they serve.
"Disabilities are not a mistake," said Shepherds Ministries' president. "People say when they get to heaven they'll be made whole. I'm not sure we won't be like them. They're some of the most loving, forgiving people I've ever known. They see with their hearts, not with their eyes."
For more information, visit Shepherd Ministries websites:
www.shepherdsministries.org
www.shepherdscollege.edu
www.shepherdsresources.org
Schooled for Life
After another harsh North Dakota winter, Olya Porth is looking forward to the onset of warmer weather, when she can plant flower seeds and prepare to grow organic vegetables for her new business, Gardens By Olya.
The 22-year-old entrepreneur will receive an assist from her parents, who guided her through a practice run last summer. Not a bad start for a woman whose struggles with a learning disability kept her away from traditional schooling.
"They helped me by teaching me how to use a budget and teaching me social skills that would help me in a job in the real world," said the 2016 graduate of Shepherds College.
Such student experiences are typical. Nearly five years after she graduated from Shepherds, Melissa Holm works as a waitress at Chives, a restaurant at the Brethren Village Retirement Community in Lancaster, Pennsylvania.
Despite Down syndrome, Melissa takes orders, enters them into the system, and serves the food. She also stocks food items and paper goods, does cleaning and sanitizing, rolls silverware, and handles other tasks.
"The college helped me learn life skills," Melissa says. "Like how to prepare my own meals, get up on time so I could get to classes and my job on time, and how to keep my living space and things organized, clean, and healthy."
Christian Ladd learned those kinds of lessons well. Despite a trio of developmental disabilities, he lives in his own apartment. So do two other classmates who graduated in 2015, a year after Christian earned his certificate of completion.
"Shepherds helped me take a major step so I can live on my own," said Christian, who has worked at a Subway restaurant in Racine, Wisconsin, for more than a year. "They helped me become independent."
However, what all these graduates especially appreciate is the Bible teaching they received at the school.
"They helped my spiritual life," Olya says. "My Bible class was really fun. It expanded my knowledge of the Bible and who God is. They didn't just read the stories. The teacher did Bible studies with them and had us act out some of them."
Melissa says Shepherds College did a lot for her faith, with various teachers inspiring her in her faith walk.
"They were strong believers and that's why I look up to them," she said. "I see God in them. Sometimes I think about the Bible verses we memorized and it helps me to remember to trust in God."
Ken Walker is a freelance writer and book editor from Huntington, West Virginia. He has written more than 4,000 magazine, website, and newspaper articles and co-authored, edited, or contributed to more than 50 books.