The digital magazine can be seen only by paid members who are logged in.
Have a website login already? Log in and start reading now.
Never created a website login before? Find your Customer Number (it's on your mailing label) and register here.
Not a Subscriber? JOIN HERE
Still have questions? Contact us here.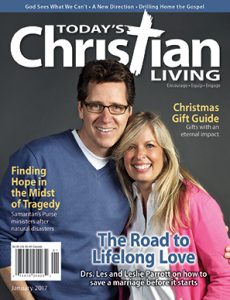 On the cover: Drs. Les and Leslie Parrott, noted marriage experts, authors, and speakers.
Photo courtesy of Drs. Les and Leslie Parrott
Features
6 The Road to Lifelong Love
by Peg Carmack Short
Drs. Les and Leslie Parrot were Christians who had dated for years, so they thought marriage would be easy. But they quickly discovered that building a successful marriage is a challenge. Now they share their hard-earned wisdom with couples in churches and seminars across the country and around the world.
12 Finding Hope in the Midst of Tragedy
by Ken Walker
Samaritan's Purse is best known for Operation Christmas Child, but it also provides assistance and spiritual counsel after natural disasters.
18 It's Goodbye to the Bents
by Max Lucado
In this hilarious account of a crooked Christmas tree, Max Lucado reveals how God views our bent lives and the loving steps He takes to straighten us out.
22 God Sees What We Can't
by Nick Hall
Nick and his team had traveled halfway around the globe to share the gospel with tens of thousands, when a pelting rain threatened to wash out the event. But the Lord had other purposes in the storm.
26 Forgiving a Runaway Father
by Deborah Smith Pegues
Joanie spent years searching for the father who abandoned her as a baby. Torn between anger and hope of reconciliation, she wasn't sure how she would react when she finally met him face to face in an Atlanta restaurant.
30 Christmas Gift Guide
Are you looking for gift that will be meaningful and appreciated? Check out our gift guide for a present to delight your loved one on Christmas morning.
34 Drilling Home the Gospel
by Brenda J. Hansen
For years, Dr. James Anderson was an atheist who only went to church to build his patient list. But then he went on a missions trip that changed his life forever.
38 The Song That Rocked the World
by Sharon Jaynes
This beloved modern hymn skyrocketed from obscurity to worldwide acclaim — all because a timid housewife summoned up the courage to follow the Holy Spirit's prompting.
40 A New Direction
by Debbie Lindell with Susy Flory
Carla had made some very bad choices in her life. Now she was a single mom trapped in an abusive relationship and a demeaning job. She had nowhere to turn … until she heard a knock at the door.
Columns
10 Living in Wisdom
Prince of Peace
16 Ask Dr. Walt
Natural Treatments and their Side Effects
20 Live Right Now
Dealing with Family Stresses
24 Dave Says
Take Care of Christmas Debt for Good
28 Turning Point
The Way Up Is Down
42 Travel
Inspirational Trips and Cruises Hosted by Christian Tour Companies
46 Persecution Report
Christians Worldwide Face Increased Persecution During Christmas
50 Grace Notes
A Gift From Heaven
Departments
4 The Fine Print
29 Daily Bible Connection
33 Laugh Lines
37 Quips & Quotes
44 Quick Takes
48 Kids of the Kingdom