The digital magazine can be seen only by paid members who are logged in.
Have a website login already? Log in and start reading now.
Never created a website login before? Find your Customer Number (it's on your mailing label) and register here.
Not a Subscriber? JOIN HERE
Still have questions? Contact us here.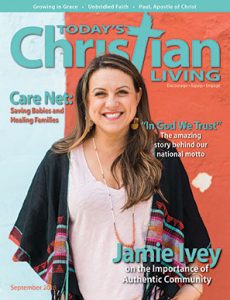 On the cover: Author and speaker Jamie Ivey
Photo courtesy Kelly Rucker
Features
6 Courageous Vulnerability: Jamie Ivey on the Power of Sharing Our Stories
by Stephanie Rische
Janie Ivey's urgent call to authentic community comes out her past brokenness and disconnection.
12 Care Net: Delivering Pro-Abundant Life Through The Great Commission
by Joanna Sanders
Care Net's pro-life ministry includes far more than just saving babies. It's about bringing couples to Christ and discipling them so the whole family experiences abundant life.
18 A Star-Spangled Tribute to "In God We Trust"
by Dr. Mike Fuljenz
A coin expert reveals the fascinating story of how "In God We Trust" became America's national motto and why it was added to our coins and paper currency.
20 Paul, Apostle of Christ
The new Christian film Paul, Apostle of Christ, starring Jim Caviezel, reveals both the horror of persecution under Nero and the powerful way Jesus transformed Paul from enemy of the church into a willing martyr.
24 Unbridled Faith
by Cara Whitney
Cara Whitney, wife of Dan Whitney (Larry the Cable Guy), shares her Damascus Road experience that changed her contempt for Christianity into a profound love for the Lord and His followers.
30 Apologetics, Evangelism, and Discipleship Resource Guide
Find products to help carry out The Great Commission.
32 Growing in Grace
by Alisha Ritchie
Author and blogger Alisha Ritchie explains how growing tomatoes is a metaphor for spiritual growth and follows up with her recipe for tomato pie.
Columns
10 Living in Wisdom
The Mission Field Is in Arms Reach
16 Ask Dr. Walt
Clearing Up Common Misconceptions
22 Live Right Now
Deal With Problems at Their Root
26 Dave Says
Important Principles for Making Financial Decisions
28 Turning Point
Just Keep Going Forward
40 Persecution Report
Some Persecuted Christians Risking Their Lives for the Word of God
46 Grace Notes
A New Heart
Departments
4 The Fine Print
29 Daily Bible Connection
36 Laugh Lines
38 Quips & Quotes
42 Quick Takes
44 Kids of the Kingdom