The digital magazine can be seen only by paid members who are logged in.
Have a website login already? Log in and start reading now.
Never created a website login before? Find your Customer Number (it's on your mailing label) and register here.
Not a Subscriber? JOIN HERE
Still have questions? Contact us here.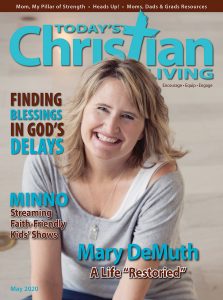 On the cover: Author and speaker Mary DeMuth.
Photo by Tina Howard.
Features
6 From Outcast to Overcomer: Mary DeMuth "Restoried"
by Stephanie Rische
Mary DeMuth experienced a traumatic childhood, but when she gave her life to Jesus as a teen, the Lord began rewriting her life story. Now her passion is to help others find freedom and healing as well.
12 Minno Nets Christian Kids' TV Shows
by Pam S. Walker
Minno is a new faith-friendly TV streaming service specifically for children. But it also includes Minno Life, a parenting resource hub with a blog, family devotions, Christian education, and much more.
18 Heads Up: Physician-Assisted Suicide Legislation Coming Your Way
by Tim Bennett
A 1997 Supreme Court decision left legislation about physician-assisted suicide up to individual states. Since then, activists have gotten it passed in a number of states and are aggressively working on the rest.
28 Moms, Dads & Grads Resource Guide
If you're looking for parenting resources for yourself or for a gift for family or friends, you'll find excellent products here.
32 Mom, My Pillar of Strength
by Frances Smith
Frances's mother, Myrtle, has helped her family weather the fiercest storms of life. Her immoveable foundation doesn't come from her own strength, though. It comes from her faith in Jesus.
34 Finding Blessings in God's Delays
by Barb Roose
Barb thought her plans were better than the Lord's and grew angry when He didn't meet her expectations. Discover the incredible surprise He had for her when she finally changed her perspective.
Columns
10 Living in Wisdom
Integrity Matters
16  Ask Dr. Walt
Get Moving!
22 Live Right Now
Coping With Difficult Life Challenges
24 Turning Point
No Place Like Home
26 Dave Says
Invest Money Wisely
40 Persecution Report
World Watch List 2020
46 Grace Notes
Refined By Fire
Departments
4 The Fine Print
25 Daily Bible Connection
37 Laugh Lines
42 Quick Takes
44 Kids of the Kingdom