The digital magazine can be seen only by paid members who are logged in.
Have a website login already? Log in and start reading now.
Never created a website login before? Find your Customer Number (it's on your mailing label) and register here.
Not a Subscriber? JOIN HERE
Still have questions? Contact us here.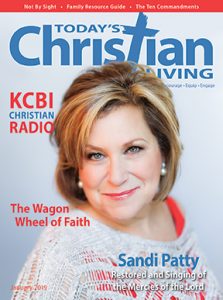 On the cover: Sandi Patty, the most awarded female vocalist in contemporary Christian music history, with 40 Dove awards.
Photo courtesy Angela Talley
Features
6 Finding Her Voice
by Stephanie Rische
Sandi Patty's life and music career crashed after she turned away from the Lord years ago. Learn how He is now using her story of repentance to point the next generation to His amazing grace.
12 KCBI Christian Radio
by Dan Brownell
KCBI Christian radio is making a huge impact for Christ in the Dallas/Ft. Worth metro area.
18 Not By Sight
by Glenda Durano
Blinded by a reaction to medication, Amberle's dream of becoming a medical missionary was dashed. But God had an amazing plan for her life.
22 A Narrow Way
by J.D. Greear
When Pastor Greear shared the gospel with Berta on a flight to Charlotte, he thought of a unique way to explain why we can only come to God through Jesus.
28 Family Resource Guide
Find biblically based resources for building strong families.
30 The Wagon Wheel of Faith
by Michael Kelley
Discover how a "wagon wheel" can shape and focus your faith.
40 The Ten Commandments
by Tara McClary Reeves
Get a bead on the true nature of the Ten Commandments.
Columns
10 Living in Wisdom
Turn Holiday Loneliness Into Joy
16 Ask Dr. Walt
An Earful of Medical Advice
20 Live Right Now
Moms and Grandmas in Crisis
24 Dave Says
Planning for the Future
26 Turning Point
How Much Forgiveness Do I Want?
36 Persecution Report
Many Persecuted Believers Filled With Joy Despite Extreme Hardships
46 Grace Notes
In His Service
Departments
4 The Fine Print
27 Daily Bible Connection
32 Quick Takes
34 Laugh Lines
44 Kids of the Kingdom