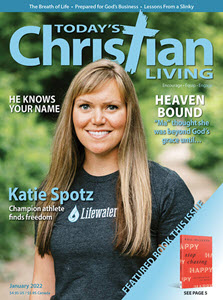 The digital magazine can be seen only by paid members who are logged in.
Have a website login already? Log in and start reading now.
Never created a website login before? Find your Customer Number (it's on your mailing label) and register here.
Not a Subscriber? JOIN HERE
Still have questions? Contact us here.
On the cover: Katie Spotz, author, speaker, record-breaking endurance athlete, and advocate for Lifewater International and other clean water organizations. Photo courtesy The Leighton Co.
Features

6 All Things Through Christ
by Stephanie Rische
Record-holding endurance athlete Katie Spotz found that her achievements left her stressed and empty. Then a friend pointed her to freedom and purpose.
9 Reader Survey
We need your feedback to help us help you with Today's Christian Living content.
12 He Knows Your Name
by Pam S. Walker
When Linda Znachko responded to God's prompting, she had no idea He would lead her into an ongoing, lifechanging ministry.
18 The Breath of Life
by Debra Hill
Debra was in a battle for her life, but her priority was telling her nurse about Jesus.
19 The Chosen Video Index
The Chosen has hundreds of YouTube videos to take you behind the scenes of the groundbreaking television series. Download our FREE user-friendly video index and click on the hyperlinks to start the videos instantly.
24 Faith Over Cancer
by Ginny Dent Brant
Ginny was stunned by her cancer diagnosis. She had always been a "health nut." Why was God allowing this in her life?
28 Heaven Bound
by Greg Stier
Greg Stier's violent family came to Jesus one-by-one, but "Ma" was the holdout, believing she was too far gone for God's grace.
32 Prepared for God's Business
by Debra Hane
Reese Kauffman was a successful Christian businessman, but he discovered his true calling when God put his skills to work in Child Evangelism Fellowship.
Columns

10 Living in Wisdom
Let His Light Shine!
16 Ask Dr. Walt
Set Your Heart on Cardiovascular Health
20 Dave Says
Facing Financial Challenges
22 Turning Point
The Place of Choice
42 Persecution Report
Afghan Christians Face Increased Suffering and Executions
46 Grace Notes
Lessons From a Slinky