The digital magazine can be seen only by paid members who are logged in.
Have a website login already? Log in and start reading now.
Never created a website login before? Find your Customer Number (it's on your mailing label) and register here.
Not a Subscriber? JOIN HERE
Still have questions? Contact us here.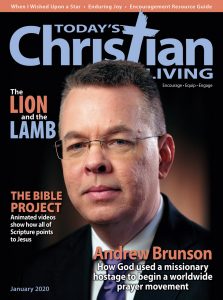 On the cover: Andrew Brunson, American missionary to Turkey, taken hostage and held for two years before being released in October 2018.
Photo courtesy Patrick Robertson
Features
6 Andrew Brunson: Pastor, Missionary, Hostage
by Stephanie Rische
While Andrew Brunson was imprisoned in Turkey on false charges, he sometimes wondered if God had abandoned him. But he eventually discovered that the Lord was accomplishing a mighty work through his ordeal.
12 The Bible Project
by Pam S. Walker
The Bible Project has produced more than 140 short, animated videos that show how all Scripture — from Genesis to Revelation — reveals a unified larger narrative that points to Jesus.
18 When Christian Celebrities Deny the Faith
by Tim Bennett
Several high-profile Christian leaders have recently recanted their faith. What does this mean for those who follow Jesus?
28 Encouragement Resource Guide
Life can be complex and overwhelming, but we have Scripture and other resources to help us through difficult times. You'll find comfort and direction in our encouragement resource guide.
30 When I Wished Upon a Star
by Brandon Lane Phillips, MD, and Jeremy Miller
When Growing Pains fan Brandon Lane Phillips met actor Jeremy Miller on set, the two had no idea that God had arranged for their lives to cross paths again years later in an amazing turn of events.
34 The Lion and the Lamb
by Dan Brownell
Artist Sally Hale sought to work out her questions about suffering and evil through a painting of Aslan the lion. After she finished, she was stunned to discover a figure in the painting that brought her great comfort.
Columns
10 Living in Wisdom
Enduring Joy
16 Ask Dr. Walt
The Best Diets
22 Live Right Now
Dealing With Compulsion, Control, and Fear
24 Turning Point
The Great Redeemer Turns Tragedy Into Triumph
26 Dave Says
Money Management Strategies
40 Persecution Report
Record Bombings in Sri Lanka Shake Christian Community
46 Grace Notes
Sanctified Through Motherhood
Departments
4 The Fine Print
15 "The Landing" Blog
25 Daily Bible Connection
33 Quips & Quotes
38 Laugh Lines
42 Quick Takes
44 Kids of the Kingdom