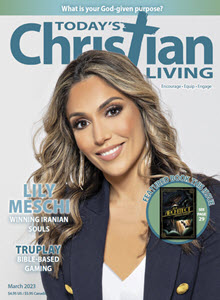 The digital magazine can be seen only by paid members who are logged in.
Have a website login already?
Log in and start reading now.
Never created a website login before? Find your Customer Number (it's on your mailing label) and
register here.
Not a Subscriber?
JOIN HERE
Still have questions?
Contact us here.
On the Cover: Lily Meschi, iranalive.org, Photo courtesy of Iran Alive Ministries
Features
5 The Battle for Iran
by Michelle Adserias
You'll be amazed by Lily Meschi's insights into the wondrous things God is doing behind the scenes in Iran.

11 The World Forgot, God Remembered
by John Eads
See how God brought light and hope to a dark, forgotten community.

16 From Panic to Freedom
by Gina Murray
Follow Gina's journey with Christ from debilitating fear to unfettered freedom.

18 When You're Mad at God
by Michelle Adserias
Brad Hambrick helps us understand the difference between anger that requires repentance and anger that needs God's compassionate care.

20 What Is Your Purpose?
An excerpt from Don't Miss Your Life: The Secret to Significance, a new book from former professional soccer player Aaron Tredway.

24 TruPlay: An Embraceable Gaming Alternative
An interview with Brent Dusing, founder of TruPlay — a biblically sound gaming platform.

29 Easter Resource Guide
Bibles and books to help make Christ's resurrection the focus of the season.
Columns
9 Living in Wisdom
Godly Sorrow

14 Ask Dr. Walt
Tattoos, Smartwatches, and Other Trends

22 Dave Says
Inheritance Insights

28 Turning Point
God's Plan in the Unknown

41 Devotional
Music to God's Ears

44 Persecution Report
Threats to Indonesia's Religious Tolerance Policy

46 Grace Notes
More Than I Asked For