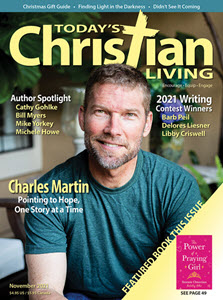 The digital magazine can be seen only by paid members who are logged in.
Have a website login already? Log in and start reading now.
Never created a website login before? Find your Customer Number (it's on your mailing label) and register here.
Not a Subscriber? JOIN HERE
Still have questions? Contact us here.
On the cover: Charles Martin, acclaimed author of nearly 20 novels. Photo courtesy Amy Schatzmann

Features

6 Novel Hope: Author Charles Martin Fights a Culture of Hopelessness One Story at a Time
by Stephanie Rische
Charles Martin uses his gift of storytelling to point readers to Jesus and His life-transforming power.

12 1st Place Writers Contest
Restoring Joy: Finding Meaning in Loss
by Barb Peil
Cindy Brinker Simmons lost both her mother and husband to cancer, but despite her losses, she continues to be a shining light for the Lord.

14 2nd Place Writers Contest
Popsicles and Perspective: Seth's Journey
by Delores Liesner
Seth Bayles suffers from a rare autoimmune disease, but rather than dwelling on his pain, he focuses on bringing joy to others.

16 3rd Place Writers Contest
Margaret Ross: Bringing Bright Smiles to the LaGrange Community
by Libby Criswell
When dental hygienist Margaret retired, she got right to work starting and running a clinic that provides free dental services and spiritual care.

22 Finding Light in the Darkness
by Evan Wilkerson
Evan Wilkerson — grandson of evangelist David Wilkerson — reveals how God rescued him from addiction, broken relationships, and deep despair.

28 Author Spotlight
Renowned Christian authors Cathy Gohlke, Bill Myers, Mike Yorkey, and Michele Howe share a behind-the-scenes look at their careers, goals, and writing processes.

32 Writers Resource Guide
No matter where you are in your writing journey, you'll discover helpful resources here.

37 Christmas Gift Guide
Find the perfect Christmas gift for friends and family.

Columns

10 Living in Wisdom
The Miracle of Grace

18 Ask Dr. Walt
Keep Brain Health in Mind

20 Live Right Now
Healing Rifts in Relationships

26 Dave Says
Discernment Needed in Making Financial Decisions

36 Turning Point
From Season to Season

56 Persecution Report
Laotian Christians Face Intense Pressure to Renounce Faith

62 Grace Notes
Didn't See It Coming