The digital magazine can be seen only by paid members who are logged in.
Have a website login already? Log in and start reading now.
Never created a website login before? Find your Customer Number (it's on your mailing label) and register here.
Not a Subscriber? JOIN HERE
Still have questions? Contact us here.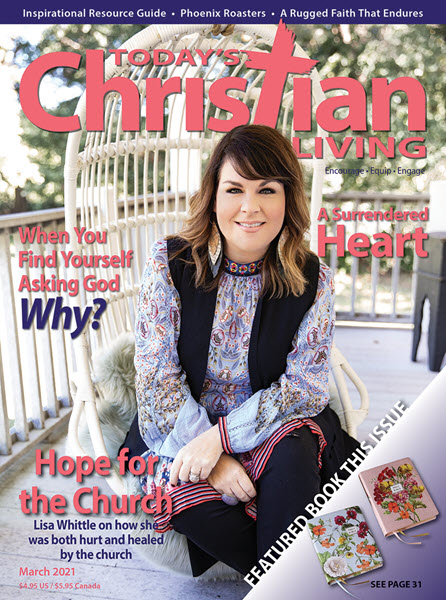 On the Cover: Lisa Whittle, author, speaker, and founder of Ministry Strong and the Jesus Over Everything podcast. Photo courtesy Caleb Peavy.
Features

6 Hurt by the Church, Healed by the Church…and Hope for the Church
by Stephanie Rische
Lisa Whittle shares the story of her pastor father's scandal, her disillusionment, and how the church played an essential role in her healing and her current role in ministry to the church.
11 9th Annual Writing Contest Opens
Submit your story to our writing contest for a chance to win a prize and get published.
12 Phoenix Roasters: Coffee That Matters
by Britt Mooney
When pastor Brian Holland planted a church in Atlanta to serve the hurting, he realized he would need to step out in faith for financial resources. God provided in a creative, unexpected way.
18 A Surrendered Heart
by Caitlin Henderson
Jake and Caitlin Henderson faced the prospect of losing their farm and a very sick toddler. Caitlin had nearly lost all hope until she reached a crucial turning point.
24 When You Find Yourself Asking God Why?
by Larry O'Donnell III
Successful businessman Larry O'Donnell thought he had life under control. When his infant daughter was permanently disabled by a medical error, however, he found a deep faith that transformed his life.
26 Frankie San: A Burning Light for Christ
by Sheila Wilkinson
Learn the amazing story of a disillusioned Japanese World War II veteran who dedicated his life to ministering to hardened "jail-birds" in a South Carolina prison.
28 Easter, Worship & Inspirational Resource Guide
Find Bibles, devotionals, Christian fiction, Easter-focused books, and more.
38 A Rugged Faith That Endures
by Lalla Lee Campsen
God answers some prayers the way we would like; others He doesn't. Learn the secret to a faith that endures regardless of the answer.
Columns

10 Living in Wisdom
The Prince of Peace
16 Ask Dr. Walt
Should I Take a Multivitamin or Not?
22 Dave Says
Steer Away from Unnecessary Car Debt
23 Turning Point
From My Way to His Way
40 Persecution Report
Rape, Forced Conversions, and
Forced Marriages on the Rise
46 Grace Notes
The Pursuit of Wisdom and Holiness
Departments
4 The Fine Print
15 Daily Bible Connection
21 "The Landing" Blog
37 Laugh Lines
42 Quick Takes
44 Kids of the Kingdom