The digital magazine can be seen only by paid members who are logged in.
Have a website login already? Log in and start reading now.
Never created a website login before? Find your Customer Number (it's on your mailing label) and register here.
Not a Subscriber? JOIN HERE
Still have questions? Contact us here.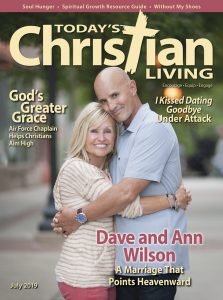 On the cover: Dave and Ann Wilson, noted marriage counselors, conference speakers, and radio show hosts.
Photo courtesy Pete Pelletier
Features
6 A Marriage That Points Heavenward
by Stephanie Rische
Dave Wilson thought he had a perfect marriage — until Ann dropped the bombshell. Discover how this couple restored their marriage so completely that they've become sought-after marriage counselors and co-hosts of FamilyLife Today.
12 God's Greater Grace
by Pam S. Walker
Brigadier General Ron Harvell, the Air Force's Deputy Chief of Chaplains, and his wife, Marsha, have developed a powerful ministry to disciple Christians and train them to disciple others.
18 Soul Hunger: Satisfy Your Heart's Deepest Longing
by J. Otis Ledbetter
Hunger of the soul is just as real and unrelenting as physical hunger. Rather than trying to ignore those deep cravings, learn how to satisfy them according to God's plan.
28 Spiritual Growth Resource Guide
Find books to help you grow deeper in your faith.
30 A Closer Look at the '90s Best-Selling Christian Book I Kissed Dating Goodbye
by Tim Bennett
The book I Kissed Dating Goodbye earned rave reviews when it hit the bookshelves in 1997. It has sold more than a million copies since its release, but it's now facing such severe criticism that it's being pulled from the market. Learn the story behind the controversy.
Columns
10 Living in Wisdom
Faithfulness: Mirroring God's Character
16 Ask Dr. Walt
Get the Skinny on Protecting Your Skin
20 Live Right Now
Is it Okay to Be Nosy or To Intervene?
24 Dave Says
Preventing and Cleaning Up Debt
26 Turning Point
Bearing With One Another
38 Persecution Report
Heartbreak in Nigeria
46 Grace Notes
Without My Shoes
Departments
4 The Fine Print
22 Daily Bible Connection
40 Laugh Lines
42 Quick Takes
44 Kids of the Kingdom