The digital magazine can be seen only by paid members who are logged in.
Have a website login already? Log in and start reading now.
Never created a website login before? Find your Customer Number (it's on your mailing label) and register here.
Not a Subscriber? JOIN HERE
Still have questions? Contact us here.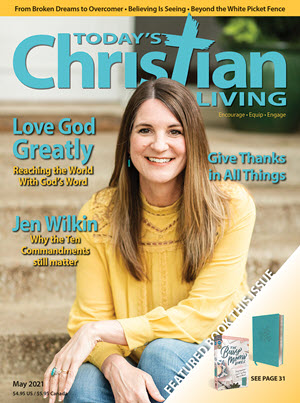 On the Cover: Jen Wilkin, author, speaker,and women's Bible teacher at e Village Church, Flower Mound, Texas.
Photo courtesy Lindsey Shea Photography
Features

6 Jen Wilkin: Ten Words to Live By
by Dan Brownell
Society has largely abandoned the Ten Commandments. Even in the church, they're now considered an outdated relic of the Old Testament. Jen Wilkin reveals why they're still relevant today in the age of grace.
10 Love God Greatly: Reaching the World With God's Word, One Woman at a Time
by Angela Perritt
Discover the incredible impact the Love God Greatly ministry has made on women in more than 200 countries through Bible studies translated into their languages.
14 From Broken Dreams to Overcomer
by Shari Rigby
Actress Shari Rigby wanted to make a di erence for Christ in the entertainment industry. God honored that desire, but only a er detours and delays that grew her faith and prepared her for a ministry in the spotlight.
18 Give Thanks in All Things: An NFL Center-Turned-Farmer Tackles Hunger by Faith
by Jason Brown
Jason Brown was the highest-paid center in the NFL when he answered God's call to hang up his cleats and become a farmer to feed the poor.
24 Beyond the White Picket Fence
by Sheri Rose Shepherd
Sheri Rose Shepherd shares from personal experience — a painful childhood, divorce, and cancer — that God is faithful through life's storms.
26 Believing Is Seeing
by Mark Dowdy
Mark Dowdy spent most of his life blind, but he learned to how to "walk by faith, not by sight" using his gi of music to glorify God.
28 Moms, Dads, and Grads Resource Guide
Find resources here to help build a solid foundation upon which to build God-honoring lives.
Columns

8 Living in Wisdom
Truth and the Law of Noncontradiction
13 Ask Dr. Walt
Common Questions and Answers About COVID-19 Vaccination
16 Live Right Now
Dealing With Family Conflict
22 Dave Says
Long-Term Financial Planning
23 Turning Point
Did God Make a Mistake?
38 Persecution Report
Open Doors' 2021 World Watch List
46 Grace Notes
Finding God's Glory in the Ordinary
Departments
4 The Fine Print
21 Daily Bible Connection
41 Laugh Lines
42 Quick Takes
44 Kids of the Kingdom