The digital magazine can be seen only by paid members who are logged in.
Have a website login already? Log in and start reading now.
Never created a website login before? Find your Customer Number (it's on your mailing label) and register here.
Not a Subscriber? JOIN HERE
Still have questions? Contact us here.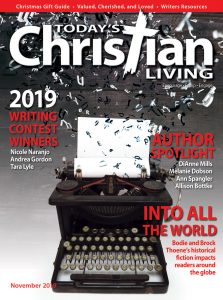 Features
6 Let Your Novel Go Into All the World
by Stephanie Rische
Working as a research and writing team, Bodie and Brock Thoene have created riveting historical novels that have helped millions of readers see biblical themes through fresh eyes.
12 1st Place — Misery, Mercy, and Miracles
by Nicole Naranjo
Nicole was a single mother of two at just 22 years old. Overcome with hopelessness, she sought solace in the bottle. But then she heard a message that turned her world around.
14 2nd Place — The Painful, Joyful Love of a Temporary Family
by Andrea Gordon
The Gordons risked heartbreak when they took in two young foster children. Within weeks, their worst fear came true when they had to give them up. What drives this family to take this risk again and again?
16 3rd Place — A King of Hope
by Tara Lyle
Tara and the other women in their correctional facility didn't feel much hope until a new superintendent arrived with a listening ear and a supportive Christian environment.
24 Author Spotlight
Leading Christian authors DiAnn Mills, Melanie Dobson, Ann Spangler, and Allison Bottke share what motivates them to write and how they bring their books to life.
30 Writers Resource Guide
You'll find almost every service a writer could ever need here, including editing, proofreading, indexing, graphic design, translation, publishing, printing, marketing, and more.
40 Christmas Gift Guide
Looking for the perfect gifts for your loved ones? We've got something for everyone.
54 Original VeggieTales Returning With 18 New Episodes
by Dan Brownell
When the Bible-based VeggieTales series ended in 2003, it was replaced with a secular version. But now Phil Vischer is back with new shows celebrating fresh scriptural truths through his zany characters.
Columns
10 Living in Wisdom
Valued, Cherished, and Loved
18 Ask Dr. Walt
Extend Your Lifespan by a Decade or More
20 Turning Point
The 10 Bibles
22 Live Right Now
Handling Family Challenges
28 Dave Says
Manage Your Money or It Will Manage You!
36 Persecution Report
Iraqi Christians Still Experiencing Persecution, Dwindling Numbers
62 Grace Notes
When Sinners Get Sick
Departments
4 The Fine Print
11 Daily Bible Connection
35 Laugh Lines
38 Quick Takes
53 Quips & Quotes
60 Kids of the Kingdom