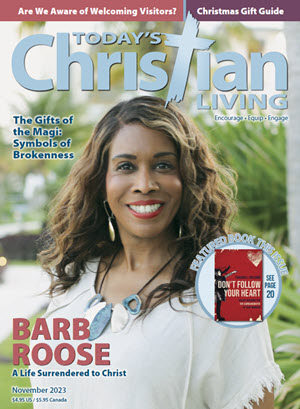 The digital magazine can be seen only by paid members who are logged in.
Have a website login already?
Log in and start reading now.
Never created a website login before? Find your Customer Number (it's on your mailing label) and
register here.
Not a Subscriber?
JOIN HERE
Still have questions?
Contact us here.
On the cover: Barb Roose, barbroose.com Photo provided by Melissa Zaldivar
Features
5 Surrendered
by Michelle Adserias
What happened when Barb Roose surrendered her life to God. 
10 God's Calling on My Life
by Tamika Rybinski
Serving as an artist with Eastern European Mission
18 Phantom in the Foyer
by Michael Coon
A challenge to the church: Do visitors feel welcome?
20 Christmas Gift Guide
These resources can improve your understanding of God and the Christian walk.
26 Christian Fiction Resource Guide
Curl up with a great book and lose yourself in the story.
42 Beautiful Brokenness
by Jessica Burchfield
The symbolic message in the gifts of the Magi.
46 Our Exceedingly Great Reward
An excerpt from Katie Davis Majors' new devotional, Our Faithful God.
9 Living in Wisdom
Christ's Return – Will You be Ready?
14 Dave Says
Home ownership, an inheritance and more.
16 Turning Point
Greater Plans
41 Ask Dr. Walt
CBD Oil: How effective is it?
44 Persecution Report
The Plight of Egypt's Christians
50 Devotional
Divine Artistry
54 Grace Notes
The Empty Box