After 11 years of growing up around drunkenness and drug abuse, I thought my life would be a dead end.
But God had different plans.
 By Jessica Sheppard
I was 11 years old the day my sister, Kelly, and I went into Atlanta with my father, grandmother, and great-grandmother. I had no idea that Kelly and I would not be returning with them. No one could have prepared us for the fact that we would never see our dad again. I was amazed by the surroundings of Atlanta. I had never been to a big city. After a 4- or 5-hour car ride, I was especially glad when we got to our destination–a giant building that was the home office of the restaurant chain, Chick-fil-A.
In the lobby I distinctly remember walking past a black baby grand piano that played all by itself. There were two large shiny elevators moving from floor to floor. The five of us got into the elevator and traveled to the building's very top floor. We made our way into a very elaborate office (which I later learned was called "the tree house") where we met Mr. Truett Cathy, the Chick-fil-A founder. He had been waiting for us.
I thought I was just along for the ride and had no idea what was about to happen. Mr. Cathy explained that this building was also the headquarters for WinShape homes, a foster care organization. A very sweet couple walked into the office. He introduced them as Paul and Christy Wilson. Suddenly I was hit with the reality that my sister and I would not be leaving with the rest of our family. The Wilsons would become our new foster parents.
How I Got Here
My early childhood was not what you would call a fairy-tale nor did it even come close. Growing up in Southern Georgia, I would lie in bed at night and listen to my mom and dad fighting. I was three when my parents filed for divorce. They got joint custody, and it was confusing to stay with my dad one week and then my mother the next. Kelly and I changed schools several times.
When I was still in kindergarten, I was given news that no child should ever have to hear. My mother was shot while working at a convenience store. I was devastated. Kelly and I went to live with my father. Even after the divorce, the news of my mom's murder hit him pretty hard. He began to drink heavily and abused his medication, causing his health to quickly deteriorate. He was diagnosed with epilepsy and liver disease. We celebrated Christmas in the summer that year because my father didn't think he would live until December.
Amazingly he survived, and Kelly and I continued to live with him for a few more years until things got bad again. My father's house was deemed an unsuitable place for two girls to live and we were placed in temporary foster care. We returned after a week and tried to live a normal life, despite my father's continuous drinking and drug abuse. My 90-year-old great grandmother did her best to care for Kelly and me. Foster care was the option that she thought would be best, and that is how I found my way to Mr. Cathy's office in Atlanta.
My New Family
Saying goodbye to my father and family wasn't that difficult initially. I was on a new adventure, excited to go to my new home in Alabama. It soon kicked in that this would be a permanent situation: A few short days after arriving, I received the news that my father passed away from liver failure. I spent several sleepless nights crying. And yet in the midst of great loss, I had a sense of calmness. I felt comforted and protected. I started school and made several new friends. I quickly developed a bond with my new parents and almost immediately felt comfortable calling them mom and dad.
God used their sincere love to change my life in a positive way. They helped me to understand the love of Christ in a real way. I recognized that I was a sinner, worthy of God's judgment. But God loved me so much, which is why He sent His only Son, Jesus, to die on the cross and take the punishment I deserved. But I had to receive what He had already done for me. With their guidance and encouragement, I became a believer in Jesus Christ. Soon after, I was baptized by my new dad. It was such a great honor to have that opportunity. I was so happy to see the amazing things God was doing in my life.
My WinShape parents encouraged me to reach my fullest potential. They always prayed with me about tough situations, like when my great-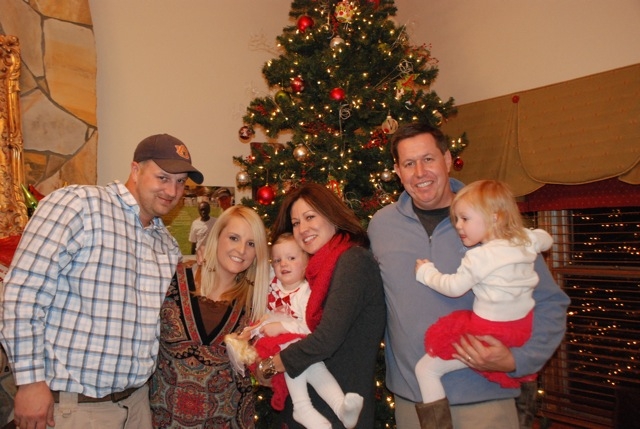 grandmother passed away or when kids at school were making fun of me. We memorized Scripture and that helped me, especially on difficult days. I became a cheerleader, played basketball and softball, and became involved in the TRUTH club and 4-H club. My parents hired a tutor for me when my grades started to slip. In my junior year, they gave me the opportunity to transfer to a Christian academy, which had been an answer to my prayers. They always encouraged me to give back to those in need. They sent me to a mission camp, and in the summer before my Senior year, they took me with them on a mission trip to Venezuela to minister to children in much worse situations than I had ever been.
I also grew closer to Grandpa Truett (Mr. Cathy), as we all call him. He encouraged us to work and save our money. He matched the money I saved dollar-for dollar. Because of his help, I was able to buy a new Jeep Cherokee when I graduated. My new brothers and sisters in our home were my family too. We argued and laughed just like other families. We did all kinds of fun things together, like ski trips, summers on the beaches in Florida, family retreats, and trips to Chicago and Washington D.C.
God Directed My Steps
God had given me a second chance, a new life. I once thought I would grow up to be a drain on human society. Never in my wildest dreams did I ever think I would graduate from high school. My biological parents spent their life drinking, doing drugs and not applying themselves. I thought that was the road set out for me, but God had a plan to give me a hope and a future.
With the help of Grandpa Truett, a loving mom and dad, and a positive environment, I was able to graduate with honors. I even received an advanced diploma with a performing arts scholarship to Southern Union State Community College. I later transferred to the University of Montevallo to study interior design. I married a wonderful man and we moved to his hometown. I remember calling mom and telling her that we were expecting twins. She was so excited for us. The next spring our twin daughters, Jordan and Addison were born.
It has been almost 13 years since I stepped out of my father's car and had the biggest change of my life. I am eternally grateful to God for my foster parents' encouragement and dedication. Even now, after I have moved on and started my own family, they continue to invest in my life.