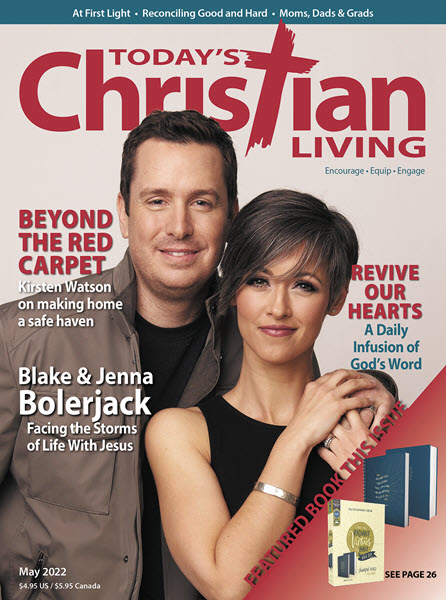 The digital magazine can be seen only by paid members who are logged in.
Have a website login already? Log in and start reading now.
Never created a website login before? Find your Customer Number (it's on your mailing label) and register here.
Not a Subscriber? JOIN HERE
Still have questions? Contact us here.
On the cover: Award-winning musicians Blake and Jenna Bolerjack.
Photo courtesy of Cameron Powell cameronpowell.net
Features
6 Blake & Jenna Bolerjack: Facing the Storms of Life With Jesus
by Dan Brownell
Not long after Blake Bolerjack wrote the song "Bring on the Storm," he and his wife, Jenna, had to face a lifechanging storm that put their faith to the test.
12 Revive Our Hearts: Providing a Daily Infusion of God's Word
by Pam S. Walker
Revive Our Heart began as a daily radio broadcast in 2001 but has greatly expanded to meet the growing demand for a daily strengthening through Scripture.
18 At First Light
by Walt Larimore, MD
World War II hero Captain Phil Larimore lost his leg in combat but found his faith when a chaplain pointed him to Jesus.
22 Beyond the Red Carpet
by Kirsten Watson
Kirsten Watson lives part of her life in the spotlight shared with her husband, NFL legend Benjamin Watson. But her top priority is creating a home that's God-focused sanctuary for her family.
25 Moms, Dads & Grads Resource Guide
Raising kids has never been harder. Find help and encouragement here.
Columns
10 Living in Wisdom
Stewardship: A Biblical View
16 Ask Dr. Walt
Fruitful Fasting
24 Turning Point
Reconciling Good and Hard
40 Persecution Report
2022 World Watch List Report
46 Grace Notes
God on the Road of Despair