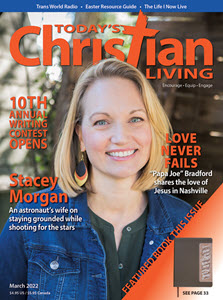 The digital magazine can be seen only by paid members who are logged in.
Have a website login already? Log in and start reading now.
Never created a website login before? Find your Customer Number (it's on your mailing label) and register here.
Not a Subscriber? JOIN HERE
Still have questions? Contact us here.
On the cover: Stacey Morgan, wife of astronaut Drew Morgan.
Photo courtesy of Glenna Harding Photography, copyright © 2020. All rights reserved.

Features

5 10th Annual Writing Contest
All Christians have stories to tell about God's faithfulness. Enter one of yours in our 10th annual writing contest for a chance to win a prize and have your story published in our November writers issue.
6 The Astronaut's Wife: How an Ordinary Family Navigates an Extraordinary Life
by Stephanie Rische
Stacey and her family are ordinary Christians who have learned how to balance the everyday humdrum of life with the exciting, out-of-this-world adventures of an astronaut.
12 Trans World Radio (TWR): Hope Knows No Barriers
by Dan Brownell
Trans World Radio has been broadcasting the gospel and discipling listeners around the globe for nearly 75 years. Now, with a world that's growing darker by the day, its mission is more urgent than ever.
18 Love Never Fails
by Papa Joe Bradford
God used Joe Bradford's hardships in early life to mold such a deep compassion for those in need — especially children — that he earned the nickname "Papa Joe" and had a movie made about his life.
24 The Life I Now Live
by Mike Lutz
Mike Lutz is a multitalented Christian whose credentials include being a golf pro, head chef, senior pastor, and author. But the theme that runs through every aspect of his life is his love for His Savior.
29 Easter Resource Guide
Jesus' resurrection proves He is God and that His words are true. He has given us His word in written form to provide a light to guide our path. In this guide, you'll find a wide range of Bibles and other resources for young and old.
Columns
10 Living in Wisdom
The Miracle of Transformation
16 Ask Dr. Walt
The Pros and Cons of Probiotics
22 Dave Says
Don't Become an Enabler
26 Live Right Now
The Importance of Honest Communication
28 Turning Point
Don't Look Back
42 Persecution Report
Persecution in Sudan Increases After October Coup
46 Grace Notes
Tearing Down Idols