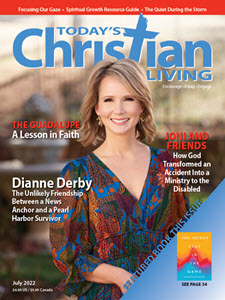 The digital magazine can be seen only by paid members who are logged in.
Have a website login already? Log in and start reading now.
Never created a website login before? Find your Customer Number (it's on your mailing label) and register here.
Not a Subscriber? JOIN HERE
Still have questions? Contact us here.
On the cover:
Dianne Derby, author of Two Hundred Tuesdays
Features
6 Two Hundred Tuesdays
by Stephanie Rische
News anchor Dianne Derby was looking for a quick story about a Pearl Harbor survivor, but what she found changed her life.
12 Joni and Friends
by Dan Brownell
When Joni Eareckson Tada became a paraplegic at 17, she thought her life was over. But God redeemed her suffering to create a dynamic ministry to the disabled with a worldwide impact.
18 Focusing Our Gaze
by Max Wilkins
Everyone experiences troubles in life, but the key to overcoming them is knowing where to look for answers.
24 Loving Relationships Can't Be Legislated
by Gary Chapman and Clarence Schuler
Gary Chapman and Clarence Schuler broke racial barriers decades ago, not based on following laws and regulations, but on adhering to God's eternal principles.
28 The Quiet During the Storm
by Naomi Vacaro
Discover the secret of the live oak and how it illustrates a tenacious faith that endures the storms of life.
32 Spiritual Growth Resource Guide
God calls us to grow in faith. Find resources her to help you mature in your walk.
36 Set Free Through Jesus
by Dan Brownell
For generations, the Tagbanwa people of the Philippines lived in terror of demons that controlled every aspect of their lives. Read the amazing story of how the Savior set them free.
Columns
10 Living in Wisdom
The Guadalupe: A Lesson in Faith
16 Ask Dr. Walt
Are Non-Stick Pans Safe?
22 Dave Says
Principles for Financial Health
27 Turning Point
I Can't Do It on My Own
40 Persecution Report
Christians in Eastern Uganda Experiencing Violent Persecution
46 Grace Notes
Open Hands, Open Heart