The digital magazine can be seen only by paid members who are logged in.
Have a website login already? Log in and start reading now.
Never created a website login before? Find your Customer Number (it's on your mailing label) and register here.
Not a Subscriber? JOIN HERE
Still have questions? Contact us here.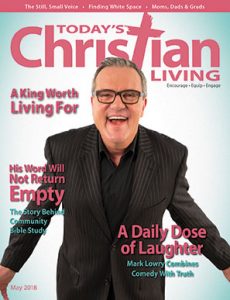 On the cover: Comedian, storyteller, singer, and songwriter Mark Lowry
Photo courtesy of Mark Lowry Media
Features
6 A Daily Dose of Laughter
by Stephanie Rische
Mark Lowry didn't set out to be a comedian or singer. In fact, he was a hyperactive kid stirring up trouble in school until he met a special teacher.
12 His Word Will Not Return Empty
by Michelle Rayburn
Founded in 1975, Community Bible Study feeds hungry souls with the Word of God, transforming lives in more than 100 countries and 80 languages.
18 A King Worth Living For
by Kori De Leon
When Westerners encounter a Middle Eastern perspective on royalty, they get a surprise.
22 A Lifestyle of Listening and Response
by Susie Larson
The Lord used Wintley Phipps' practice of listening carefully to His voice to make an incredible eternal impact. We can do the same if we train our spiritual ears.
28 Faith, Fear, and a Financial Challenge
by Lori Hatcher
David had dropped out of college 20 years before. As a pastor, money was tight. He desperately wanted to finish school, but how would he come up with the money?
30 The Still, Small Voice
by Joanna Sanders
Joanna treasured Susan's friendship, but when a rift developed with her over her faith in Jesus, she had to decide what to do.
42 Moms, Dads, and Grads Resource Guide
Spring is the time of year to celebrate parents and graduates. Check out these gift recommendations.
44 Invite Him Into the White Space
by Sara Hagerty
Discover how to declutter your mind to make room for the Lord's peace and direction.
Columns
10 Living in Wisdom
Leave an Inspiring Legacy
16 Ask Dr. Walt
Dieting and Health Food Advice
20 Live Right Now
Tackle Family Divisions With Grace
24 Dave Says
Learn Good Money Management Habits
26 Turning Point
Foggy Good Intentions
36 Persecution Report
North Korean Persecution and 2018 Open Doors World Watch List
50 Grace Notes
I Followed Jesus Into Jail
Departments
4 The Fine Print
19 Daily Bible Connection
27 Quips & Quotes
32 Quick Takes
34 Laugh Lines
48 Kids of the Kingdom