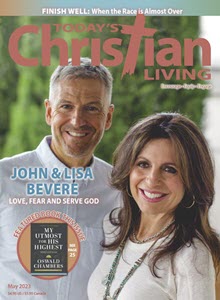 The digital magazine can be seen only by paid members who are logged in.
Have a website login already?
Log in and start reading now.
Never created a website login before? Find your Customer Number (it's on your mailing label) and
register here.
Not a Subscriber?
JOIN HERE
Still have questions?
Contact us here.
On the Cover: John and Lisa Bevere, messengerinternational.org. Photo courtesy of Thomas Nelson Publishers

Features
5 Love God, Fear God
by Stephanie Rische
How can the forgotten gift of holy fear be the path to a fulfilling, fruitful life? John and Lisa Bevere explain.

11 TCL Annual Writing Contest
Send us your best story about "Great Things He (God) Hath Done."

12 Finish Well
by Michelle Adserias
Explore the ways you can make the most of your final years with insights from Robert Wolgemuth.

16 When "I Love You, Mom" Comes at a Cost
By Helen McIntosh and Blythe Daniel
Ways to honor your mother, even when it isn't easy.

19 Gap Year Guideby Mike Lutz
Could a Christian gap year program be the right next step for a high school graduate you know?

22 One Body; Together in Heavenand on Earth
An excerpt from Hope in the Eleventh Hour, a book of hope for those who mourn by Sarah Berger.

25 2023 Moms, Dads and Grads Resource Guide
Bible and book gift ideas for mothers, fathers and graduates.
Columns
9 Living in Wisdom
Just Keep on Driving

18 Dave Says
Setting Financial Priorities

23 Devotional
Washed in the Blood

24 Turning Point
Turn Off the Noise

40 Ask Dr. Walt
Salt Lamps, Sea Salt, Cell Phones and more

42 Persecution Report
Open Doors 2023 World Watch List

46 Grace Notes
Running with a Limp