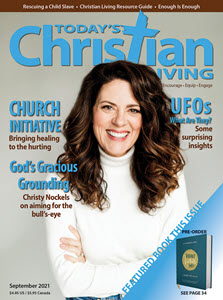 The digital magazine can be seen only by paid members who are logged in.
Have a website login already? Log in and start reading now.
Never created a website login before? Find your Customer Number (it's on your mailing label) and register here.
Not a Subscriber? JOIN HERE
Still have questions? Contact us here.
On the Cover: Singer, songwriter, and worship leader Christy Nockels.
Features

6 God's Gracious Grounding: Christy Nockels on Discovering Her Identity as God's Beloved
by Stephanie Rische
Christy Nockels was serving wholeheartedly as a singer, songwriter, and worship leader, but when she reached burnout, she discovered that her value wasn't defined by ministry.
12 Church Initiative: Bringing Healing to the Hurting Through Christ-Focused Groups
by Pam S. Walker
Serving 25,000 congregations, Church Initiative offers biblically based support and counseling for divorcees, children of divorcees, single parents, and those grieving the loss of loved ones.
18 Rescuing a Child Slave: How I Got to Know God Better
by Dr. David Vanderpool
When Dr. David Vanderpool discovered a verse in Jeremiah, he realized how God was calling him to draw closer.
24 On Wings of Eagles
by Charles H. Huettner
Charles Huettner learned as a teen how to listen to the Holy Spirit's guidance, and that relationship has served him well, guiding him in his career path to influential government and civilian positions.
28 UFOs: What Are They?
by Dan Brownell
Are aliens visiting Earth? Learn what the government report revealed and get a perspective from a Christian worldview.
34 Christian Living Resource Guide
Find guidance for spiritual growth and Christian living.
Columns

10 Living in Wisdom
Not Forsaking the Assembly
16 Ask Dr. Walt
Weighing in on Weight Loss
Ask Dr. Walt column links. These links are referenced in this column.
1 tinyurl.com/u9ls6j5
2 tinyurl.com/y6tc8fjx
3 tinyurl.com/yy89tbn8
4 tinyurl.com/yxul6pat
5 tinyurl.com/yxul6pat
6 tinyurl.com/y2s6fxsa
7 tinyurl.com/y54jljlw
8 tinyurl.com/yb5uxcnq
9 tinyurl.com/y59eedzg
10 tinyurl.com/t7o7cyu
11 tinyurl.com/tggulyt
12 tinyurl.com/rm5ocvl
20 Live Right Now
Take Initiative to Do What's Right
22 Turning Point
Knowing Jesus My Redeemer
26 Dave Says
Take Control of Your Money
42 Persecution Report
Coptic Women Forced to Convert and Marry Muslim Men
46 Grace Notes
Enough Is Enough
Departments
4 The Fine Print
23 Daily Bible Connection
38 Laugh Lines
40 Quick Takes
44 Kids of the Kingdom