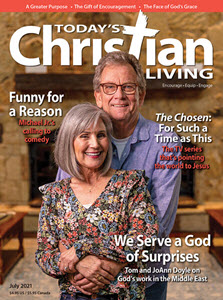 On the Cover: Tom and JoAnn Doyle, founders of Uncharted Ministries and Not Forgotten, ministries that reach Muslims in the Middle East.
Features
6 We Serve a God of Surprises
by Stephanie Rische
Tom and JoAnn Doyle share the amazing move of God in the Middle East — especially among Muslim women — that's largely been unreported in the West.
12 The Chosen: For Such a Time as This
by Dan Brownell
The second season of The Chosen television series is impacting millions around the world. The show's timing is providential, as it counters a rising hostility against God.
22 The Face of God's Grace
by Don Wilton
Billy Graham's integrity and humility opened many hearts to the gospel, setting an example for us to follow in a time of great cynicism.
28 Funny for a Reason
by Michael Jr.
Christian comedian Michael Jr. finds his greatest satisfaction is bringing people laughter and joy rather than seeking his own fulfillment.
32 When Life Is Hard and Doubt Is Rising
by Nicki Koziarz
When we feel like we're drowning in problems, we can turn to Noah and his family to learn valuable lessons of faith.
37 Marriage Resource Guide
Whether you're single but waiting for the love of your life or you're already married, find helpful relationship resources here.
42 A Greater Purpose
by John Stange
Suffering is never pleasant, but God works through our painful trials with our ultimate good in mind.
Columns

10 Living in Wisdom
The Gift of Encouragement
16 Ask Dr. Walt
Stimulating Thoughts About Energy-Boosting Beverages
20 Live Right Now
Work Through Marital Challenges
26 Dave Says
Plan for the Long Haul
31 Turning Point
From Terri ed to Revitalized
40 Persecution Report
Algerian Christians Face Increasing Persecution
46 Grace Notes
God's View of Success
Departments
4 The Fine Print
18 Daily Bible Connection
34 Quick Takes
36 Laugh Lines
38 Quips & Quotes
44 Kids of the Kingdom