The digital magazine can be seen only by paid members who are logged in.
Have a website login already? Log in and start reading now.
Never created a website login before? Find your Customer Number (it's on your mailing label) and register here.
Not a Subscriber? JOIN HERE
Still have questions? Contact us here.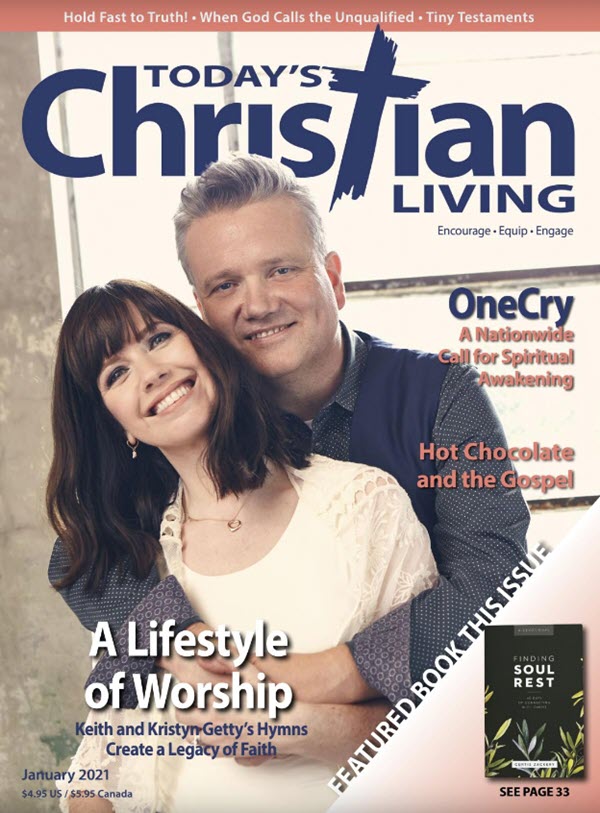 On the cover: Modern hymn writers and vocalists Keith and Kristyn Getty,
Photo by Kristin Barlowe, provided courtesy of Getty Music Features.
6 A Lifestyle of Worship
by Stephanie Rische
Keith and Kristyn Getty have helped bring hymns back to the forefront of Christian music by reinventing the traditional hymn form while staying true to Scripture.
12 OneCry: A Nationwide Call for Spiritual Awakening
by Dan Brownell
Learn how to get involved in OneCry's revival ministry, which is experiencing exponential growth as people seek God during COVID-19 and civil unrest.
19 Hold Fast to Truth!
The prophet Hosea said of Israel, "My people are destroyed for lack of knowledge…." (Hos. 4:6 KJV), Because Israel rejected God's instruction, the nation imploded. We face collapse, too, unless we turn back to Him and His Word.
26 Tiny Testaments: Touching Families for Eternity
by Karen D. Pilgreen
A New Mexico church gives a special gift to parents of newborns that can transform lives.
28 Hot Chocolate and the Gospel
by Taylor Jensen
What happens when a young Christian visits the most dangerous street in the most dangerous city of Colombia to share the Good News about Jesus?
30 In Over My Head
by Ammie Bouwman
If you've spent your life feeling like "damaged goods," you're not alone. Find out how the Lord can rescue you from despair.
32 Christian Living Resource Guide
Discover resources to help you live a more effective and fulfilling and Christian life.
34 When God Calls the Unqualified
by Teresa Swanstrom Anderson
God never called us to pull ourselves up by our own bootstraps. Find out why a life of dependence on the Lord is so much better than leaning on our own strength.
Columns
10 Living in Wisdom
Setting Priorities
16 Ask Dr. Walt
Do "Immunity Boosters" Really Work?
20 Live Right Now
Working Through Intense Emotions
22 Turning Point
Sometimes I Just Need a Hand
24 Dave Says
Make Every Penny Count
40 Persecution Report
Nigerian Christians Face Increasing Attacks From Fulani Herdsmen
46 Grace Notes
Wrinkles and Scars Tell a Story of God's Grace
Departments
4 The Fine Print
15 "The Landing" Blog
18 Daily Bible Connection
37 Quips & Quotes
38 Laugh Lines
42 Quick Takes
44 Kids of the Kingdom