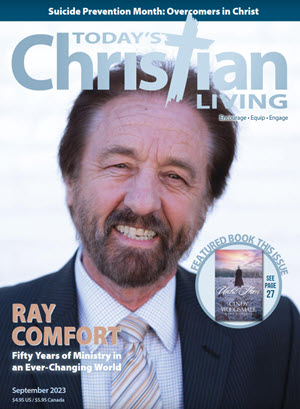 The digital magazine can be seen only by paid members who are logged in.
Have a website login already?
Log in and start reading now.
Never created a website login before? Find your Customer Number (it's on your mailing label) and
register here.
Not a Subscriber?
JOIN HERE
Still have questions?
Contact us here.
On the Cover: Ray Comfort, www.livingwaters.com Photo provided by Living Waters
Features
5 New Technology, Same Calling
by Stephanie Rische
New communication tools impact an established ministry.
10 Crazy Beautiful
by Nita Wilkinson
God brings healing and growth through the unexpected.
12 Medical Teams International
by Pam Walker
How Medical Teams International works to relieve human suffering.
16 No More Chains
by Michelle Adserias
From abuse and imprisonment to freedom and a thriving ministry.
22 Overcoming Suicide
by Hillary Hardin
One woman's God-empowered victory over depression and suicide.
26 Christian Fiction Resource Guide
Curl up with a great book and lose yourself in the story.
31 Christian Living Resource Guide
Resources to improve your understanding of God and the Christian walk.
37 Through the Valleys
Dan Herod encourages those walking through suffering and loss.
Columns
9 Living in Wisdom
Justice and Mercy
20 Dave Says
Insights for life changes
28 Ask Dr. Walt
Expert insights on medical topics
30 Turning Point
Please God, Take the Torch
38 Persecution Report
U.S. policy impacts India's Christians
42 Devotional
Autumn Aroma
46 Grace Notes
The Best Gift