The digital magazine can be seen only by paid members who are logged in.
Have a website login already? Log in and start reading now.
Never created a website login before? Find your Customer Number (it's on your mailing label) and register here.
Not a Subscriber? JOIN HERE
Still have questions? Contact us here.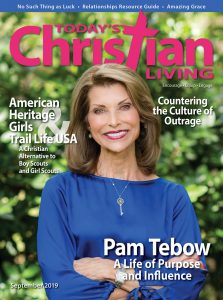 On the cover: Pam Tebow, speaker, author, pro-life advocate, and mother of quarterback Tim Tebow.
Copyright © 2018 by T. Hawkins Photography. All rights reserved.
Features
6 Pam Tebow: Living a Life of Purpose and Influence
by Stephanie Rische
Pam Tebow didn't seek fame, but her star athlete son, Tim, brought her into the spotlight. She's using that platform and her everyday life to share the gospel with the world.
12 American Heritage Girls & Trail Life USA: Partners in Pursuit of Biblical Values
by Pam S. Walker
Two ministries offer a Christian alternative to Boy Scouts and Girl Scouts. Featuring spiritual-and character-building activities, they promote leadership for the next generation.
18 No Such Thing as Luck
by Wendi Lou Lee
Wendi and her twin sister played Grace on Little House on the Prairie. But Wendi's greatest role is sharing the news that God has a plan for each of our lives.
28 Relationships Resource Guide
Learn how relationships can be enriched by applying biblical principles.
32 Countering the Culture of Outrage: How to Build Bridges in a Polarized Society
by Tim Bennett
In a world full of rage, Christians need to master the skill of communicating peacefully and effectively without compromising truth.
38 When the Father Knits: God's Creativity Revealed in Us
by Jessica Edwards
Our heavenly Father demonstrates His astonishing handiwork with each child He fashions in the womb.
Columns
10 Living in Wisdom
Amazing Grace
16 Ask Dr. Walt
Be Flexible!
22 Live Right Now
Think Before You Act
24 Turning Point
A Prayer Answered Through Music
26 Dave Says
Win the Budget Battle
40 Persecution Report
Christian Women Suffer Extreme Persecution
46 Grace Notes
A Peek Through the Curtain
Departments
4 The Fine Print
25 Daily Bible Connection
37 Laugh Lines
42 Quick Takes
44 Kids of the Kingdom