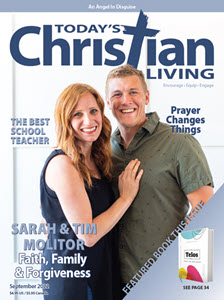 The digital magazine can be seen only by paid members who are logged in.
Have a website login already? Log in and start reading now.
Never created a website login before? Find your Customer Number (it's on your mailing label) and register here.
Not a Subscriber? JOIN HERE
Still have questions? Contact us here.
On the cover: Tim and Sarah Molitor, modernfarmhousefamily.com
Features
8 Faith, Forgiveness, and an Unexpected Mission
by Stephanie Rische
When Sarah surrendered to God's plan, He transformed her inner discontentment into overflowing joy.
14 Prayer First
An interview with Brooke McGlothlin
Raising boys to be godly men is a formidable job. Learn how Brooke helps moms worldwide parent better to God's glory.
20 The Schoolteacher Who Changed My Life
by Ron Archer
The hope one person, obedient to Christ's calling, brought to a child living in utter despair.
24 Undercover Angel
by Marcia McGreevy Lewis
When they needed help, did God send an angel to their rescue? He wasn't dressed in white raiment but find out why Marcia believes he was heaven-sent.
30 Christian Living Resource Guide
Living a God-honoring life can be challenging. Here are some resources to encourage you on the journey.
35 Picking Berries
The berries are ripe. Now's the time to gear up and go harvest them.
37 Let Your Light Shine
By Heidi Baker
No one had ever told the Londo villagers about Jesus. Learn how they finally heard the New Testament in their own language.
38 Lessons from the Leaf Pile
by Michelle Adserias
What God teaches us about Himself as we work, play and pursue Him; with both our natural and spiritual families.
Columns
6 Living in Wisdom
The Cost of Contentment
12 Ask Dr. Walt
Are Protein Drinks Safe?
18 Dave Says
Teaching Teens to Manage Money
26 Turning Point
Love Bears All Things
40 Persecution Report
Christians in Egypt Face Many Hardships
46 Grace Notes
Best Laid Plans