The digital magazine can be seen only by paid members who are logged in.
Have a website login already? Log in and start reading now.
Never created a website login before? Find your Customer Number (it's on your mailing label) and register here.
Not a Subscriber? JOIN HERE
Still have questions? Contact us here.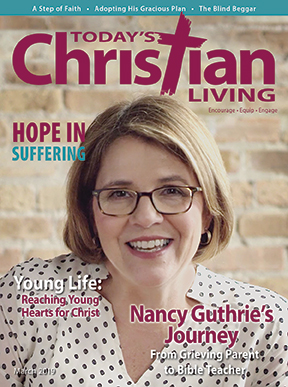 On the cover: Bible teacher and author Nancy Guthrie
Features
6             The Redemptive Road of Love: Nancy Guthrie's Unexpected Journey From Grieving Parent to Bible Teacher
by Stephanie Rische
Nancy endured the furnace of affliction with two heartbreaking losses. The intense anguish helped prepare her to become a Bible teacher with a focus on truth and the hope we have through the gospel.
12 Young Life: Reaching Hearts for Christ Through Fun, Friendship, and Adventure
by Pam S. Walker
For nearly 80 years, Young Life has been reaching youth for Christ. But that's not all they do. Along the way, they've expanded their ministry to share the gospel and train up other groups as well.
18 Adopting His Gracious Plan
by Kerstin Lindquist
Even though Grace was showered with love from her adoptive parents, she still felt insecure. But God had a special way to reassure her of her place in her new family.
22 The Blind Beggar
by Heath Adamson
Heath was appalled at a fellow missionary's reaction to a blind beggar. The real shock came from the blind man's response.
28 Hope in Trials and Suffering Resource Guide
Jesus warned his followers that they would face difficulties, just as He had. Find resources to help guide you through suffering and remind you of our blessed hope.
36 From Thunder Bay to God's Plan
by Will Graham
Will was discouraged and ready to write off the Thunder Bay evangelistic event. But God wasn't.
40 A Step of Faith
by Allison Wilson Lee
Allison had prepared for years to be a "bone marrow" donor for someone in need of a lifesaving transplant. Then the call came.
Columns
10 Living in Wisdom
The Value of Godly Wisdom
16 Ask Dr. Walt
The Bottom Line on Vegan and Other Controversies
20 Live Right Now
Working Through Conflicts
24 Dave Says
Insight on Life Insurance, Bonds, and Debt
26 Turning Point
An African Angel
34 Persecution Report
Imprisonment of Christians Intensifies in Iran, Other Countries
46 Grace Notes
An Extraordinarily Ordinary Answer
Departments
3 The Fine Print
27 Daily Bible Connection
31 Winter Wonderland Word Search
32 Quick Takes
38 Laugh Lines
42 Quips & Quotes
44 Kids of the Kingdom