The digital magazine can be seen only by paid members who are logged in.
Have a website login already? Log in and start reading now.
Never created a website login before? Find your Customer Number (it's on your mailing label) and register here.
Not a Subscriber? JOIN HERE
Still have questions? Contact us here.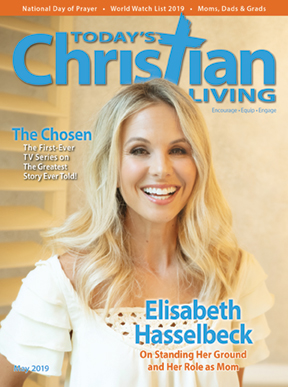 On the cover: Elisabeth Hasselbeck, outspoken Christian, participant in Survivor: Australian Outback, and past cohost of The View and Fox & Friends.
Photo courtesy Wiff Harmer Photography (www.wiffharmer.com).
Features
6 Elisabeth Hasselbeck: from TV Show Host to Chief Breakfast Officer
by Stephanie Rische
From her debut on Survivor to her final episode on The View, Elisabeth Hasselbeck's faith passed the fiery test of endurance. Now she's flourishing in a new chapter in her life.
12 The Chosen: A Pioneering TV Series Proclaims Jesus' Transforming Power
by Dan Brownell
For the first time ever, a TV show will present an in-depth look at how Jesus changed the lives of His disciples.
18 Set Free
by Kandi Gallaty
Although it was Kandi's father who was behind bars, Kandi had to deal with imprisonment of another kind.
22 For the Highest Advantage of Others
by Daniel Hamlin
Daniel ignored the Holy Spirit's warning not to surf that day. Only by God's grace is he able to recount the terrifying story now.
30 Moms, Dads & Grads Resource Guide
Gifts and resources for Mother's Day, Father's Day, and graduates.
42 National Day of Prayer
Learn how to lead or join a prayer gathering on Thurs, May 2.
Columns
10 Living in Wisdom
Living a Godly Life
16 Ask Dr. Walt
Natural Remedies: Good and Bad News
20 Live Right Now
Dealing With Intense Hardships
26 Dave Says
Wise Counsel for Common Financial Challenges
28 Turning Point
Anna's Prayer Lesson
36 Persecution Report
Indian Girl Remains Faithful Despite Beatings; Persecution on the Increase Around the World
46 Grace Notes
A Life Fulfilled
Departments
4 The Fine Print
29 Daily Bible Connection
34 Quick Takes
40 Laugh Lines
44 Kids of the Kingdom