The digital magazine can be seen only by paid members who are logged in.
Have a website login already? Log in and start reading now.
Never created a website login before? Find your Customer Number (it's on your mailing label) and register here.
Not a Subscriber? JOIN HERE
Still have questions? Contact us here.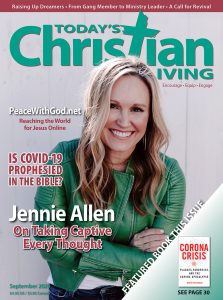 On the cover: Jennie Allen, noted author, speaker, and founder of IF:Gathering (ifgathering.com).
Features
6 Taking Captive Every Thought
by Stephanie Rische
Jennie Allen discovered that brain science backs up the Bible's claim that we can be set free from toxic emotions. Learn what Scripture has to say about this important topic.
12 PeaceWithGod.net: Evangelism and Discipleship on the Digital Superhighway
by Dan Brownell
People are desperately searching for answers to life's problems. PeaceWithGod.net, a ministry of the Billy Graham Evangelistic Association, shares God's answers with people around the globe through the Internet.
18 A Call for Revival
by Dan Brownell
In the past, Christians have called out to God for revival, and He has answered, changing entire countries. The time is long overdue for us to call on Him again in humble repentance and prayer.
29 Family and Teen Resource Guide
Resources for families with teens and college-bound kids.
30 Is COVID-19 Prophesied in the Bible?
by Dr. Mark Hitchcock
Is the pandemic God's judgment? Prophecy expert Dr. Mark Hitchcock sheds light on this captivating question.
32 Joe Duthie: From Gang Member to Team Builder for Christ
by Nancy Gravatt
Joe Duthie leads evangelistic teams of nationals in 22 countries. Read the amazing story of how God saved and transformed a gang member in India to lead Ambassadors for Christ international.
36 Raising Up Dreamers
by Shelia Erwin
Shelia Erwin, mother of Christian filmmakers Andrew and Jon Erwin, explains the biblical principles she taught her sons that were foundational to their success.
Columns
10 Living in Wisdom
The Privilege of Prayer
16 Ask Dr. Walt
Lower the Risk of Colorectal Cancer
22 Live Right Now
Finding Forgiveness
24 Turning Point
Learning to Trust God in Difficult Times
26 Dave Says
Budgeting to Guide Decisions
40 Persecution Report
Nepal Uses COVID-19 to Persecute Christians
46 Grace Notes
Lessons From My Garden
Departments
4 The Fine Print
15 "The Landing" Blog
25 Daily Bible Connection
28 Quips & Quotes
38 Laugh Lines
42 Quick Takes
44 Kids of the Kingdom