The digital magazine can be seen only by paid members who are logged in.
Have a website login already? Log in and start reading now.
Never created a website login before? Find your Customer Number (it's on your mailing label) and register here.
Not a Subscriber? JOIN HERE
Still have questions? Contact us here.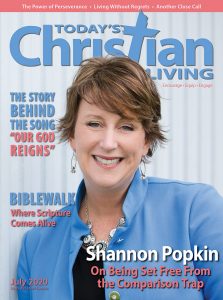 Features
6 The Comparison Trap: Be Set Free
by Stephanie Rische
Shannon Popkin shares how we can have victory
over the temptation to compare ourselves
with others.

12 BibleWalk: Where Scripture
Comes Alive
by Pam S. Walker
BibleWalk, a wax museum in Ohio featuring
biblical characters and scenes, has inspired
visitors for more than 30 years.

18 Jonny Hawkins: Bringing a
Ministry of Laughter
Through Cartoons
by Dan Brownell
Jonny Hawkins creates cartoons to minister
to people and proclaim the glory of God, all
while making them chuckle.

28 Marriage Resource Guide
Find helpful resources for building and
maintaining a godly marriage.

32 What Was I Thinking? Living a Life
Without Regrets
by Maggie Wallem Rowe
We've all been haunted by past sins and mistakes.
Maggie Rowe shows us how to let go of them so
we can move forward and grow in spiritual
health and maturity.

34 The Power of Perseverance
by Doug Gehman
An evangelist named "WC" spent three years
sharing the gospel in ailand with discouraging
results — until he got to the village of oeng.

36 The Fact, Faith, Feeling Train
by Amy Seiffert
We don't have to be controlled by our emotions.
Discover the secret of being in charge of them
rather than at their mercy.
Columns
10 Living in Wisdom
Perseverance in the Valley

16 Ask Dr. Walt
Sleep On This Advice

22 Live Right Now
The Importance of Patience
and Communication

24 Turning Point
The Story Behind the
World-Renowned Song
"Our God Reigns"

26 Dave Says
Good and Bad
Financial Practices

40 Persecution Report
Surveillance of Christians in
China Skyrockets

46 Grace Notes
Another Close Call