The digital magazine can be seen only by paid members who are logged in.
Have a website login already? Log in and start reading now.
Never created a website login before? Find your Customer Number (it's on your mailing label) and register here.
Not a Subscriber? JOIN HERE
Still have questions? Contact us here.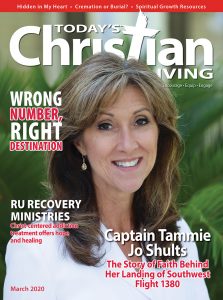 On the cover: Tammie Jo Shults, captain of Southwest Flight 1380
Photo courtesy Pam Akin
Features
6 Nerves of Steel: Captain Tammie Jo Shults' Miraculous Landing of Southwest Flight 1380
by Dan Brownell
At 32,500 feet, Captain Tammie Jo Shults suddenly found herself wrestling a crippled Boeing 737 and trusting in the Lord's guidance to bring her passengers and crew down safely.
12 RU Recovery Ministries: Breaking the Chains and Cycle of Addiction Through Christ
by Stephanie Rische
The scourge of addiction in America is becoming worse by the day, but RU Recovery is helping to stem the tide through its worldwide ministry. The Christ-centered treatment program hosts more than 2,000 chapters around the globe, with 1,200 in the U.S. alone.
18 Cremation Gains Momentum in the U.S.: Should Christians Follow the Trend?
by Tim Bennett
Cremation has become very popular in recent years. Does the Bible and church history shed any light on the practice?
28 Spiritual Growth Resource Guide
We aren't to stay spiritual infants, but to steadily mature in our faith. Find helpful resources to help individuals, families, and churches with this important responsibility.
30 Hidden in My Heart: A Life Transformed Through the Word
by Tom Meyer
Known as the "Bible Memory Man" for his ability to recite 20 complete books of the Bible, Tom Myer explains how Scripture memorization changed his life and why anyone can memorize God's Word.
34 Wrong Number, Right Destination
by Shawn Carney
When Erin accidentally dialed the wrong number, she had no idea that it would forever change her life.
Columns
10 Living in Wisdom
The Worshipping Heart
16 Ask Dr. Walt
Do Plant-Based Meats Live Up to Their Hype?
22 Live Right Now
The Importance of Accountability
24 Turning Point
But I Didn't
26 Dave Says
Safe Financial Practices
40 Persecution Report
Algerian Government Closes at Least 14 Churches
46 Grace Notes
A Reminder of God's Love
Departments
4 The Fine Print
15 "The Landing" Blog
20 Quips & Quotes
25 Daily Bible Connection
38 Laugh Lines
42 Quick Takes
44 Kids of the Kingdom